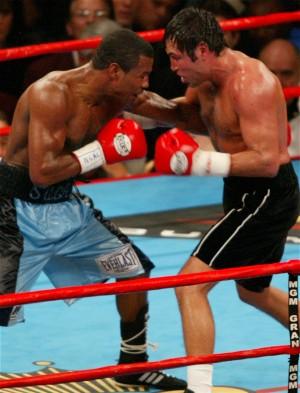 Mosley Vs DeLaHoya I, a classic encounter

By Tom Gray: Ten years ago today (June 17) Sugar Shane Mosley defeated Oscar De La Hoya in a classic encounter before a sell-out crowd at the Staples Centre. It was arguably one of the best fights the glitzy Los Angeles venue has ever staged.

Boxing fans experienced Mosley's 'Sugar Sweet ' style first a year before he won his first world title. There was an article in Ring Magazine entitled "Wait Until You Get a Taste of this Sugar!". The article made interesting reading and left the impression that we would be hearing more about the Pomona based native.

Mosley had compiled an amateur record of 250+ wins against 12 defeats. He was a three time National Champion and a lock to make the 1992 US Olympic Team. His speed was phenomenal and his combination punching reminiscent of a peak Meldrick Taylor. He was sparring world champions as a teenager and a gold medal was in his sights. However, Vernon Forrest, another amateur standout hadn't read the script and clearly defeated Mosley at the trials, using his height and reach to offset Mosley's blazing hand speed.

The absence of Olympic exposure would have an adverse effect on Mosley's early professional career. He was getting the results and seasoned scribes knew he was destined for world honours but big money and ultimately adulation would have to wait. By the time the lightning quick Californian fought for the IBF lightweight title he was 23-0 (22 KO'S) and his career was merely simmering. Mosley fulfilled his destiny against champion Phillip Holiday in a hard fought affair and things would only get better. He made eight successful defences, scoring knockouts in each of them, with HBO charting his rise to stardom. One particular performance against Demetrio Ceballos was nothing short of spectacular.

Oscar De La Hoya capped a 223-5 amateur career with Olympic Gold in Barcelona and kicked open the door. He was television friendly, extremely good looking and like Sugar Ray Leonard before him, a dynamite fighter. Being a converted southpaw the left hook was the weapon of choice and his combination punching, dazzling. He didn't have the speed that Shane possessed but the difference was negligible. Oscar was literally a millionaire before he took off his amateur head gear and won a world title from Jimmy Bredahl within a year and a half. In 1996 he dethroned Mexican legend, Julio Cesar Chavez and became a mega star in the sport of boxing.

By 1999 Shane Mosley was finding it almost impossible to make the 135lb limit and was forced to move up. The new 'Sugar Man' actually bypassed 140lbs and moved straight to welterweight in search of Oscar De La Hoya and the gold that eluded him as an amateur. If Mosley could defeat his nemesis he would gain unparalleled acclaim and a top rung position on the pound for pound ladder. They had sparred as children, fought in the amateurs at the Resurrection Gym in LA and now the stars had aligned for them to meet again.

One week before Mosley made his welterweight debut Oscar De La Hoya dropped a majority decision to Felix Trinidad. Put simply the verdict went the wrong way as De La Hoya won at least seven of the first nine rounds. However, he was criticised heavily for a late round retreat and was desperate to show fans and critics the offensive force that bubbled within him. He called his promoter Bob Arum and the message was simple; "Get me Mosley in LA!"

The fight was dubbed "Destiny". It was a huge event and De La Hoya commanded purse parity, being both the star attraction and the defending WBC champion. Tito Trinidad had vacated the title and moved to 154lbs, so Oscar won the title by default after knocking out contender, Derrell Coley in his previous fight.

The atmosphere was electric as both men made their ring walks. Mosley entered first with a wide smile, flashing off laser like cameos of punches as he awaited the challenge. The crowd was then entertained by a De La Hoya highlight reel accompanied by a song from HIS recently released album. Both men were in the shape of their lives and then the bell rang.

Mosley had a fantastic first round. Looping over hand rights, almost subtle 1-2 combinations and leaping left hooks to the body were testing The Golden Boy early. Shane would have settled for another eleven rounds just like it but this was never going to be easy. De La Hoya adjusted instantly in the second, following the jab with ripping body attacks that had Mosley on the back foot for the full three minutes. Oscar continued to press the attack for the next three rounds and Shane appeared to be struggling.

Mosley was behind and needed to turn things around quickly. His father and trainer, Jack Mosley, sensing urgency implored Shane to give it his all; "You've trained for this your whole life!" Energised, Shane began to create angles for Oscar, darting in and out with straight shots down the centre. There was switch hitting and stunning combinations up and down. Oscar looked like he had been dealt a piece of trigonometry and was minus a calculator. The ninth round was dramatic as both fighters traded massive shots. The LA crowd was in uproar and come the final round the fight was in the balance. Even though the action was extremely violent there remained a mutual respect between the two warriors, never more so than when De La Hoya, nose bloody, flashed a smile across the ring at Mosley after both men had slipped on advertising paint.

The final moments were sensational. Both men walked towards each other, implored the crowd for more noise, touched gloves and squared off brutally. The session was dominated by Mosley who found the champion with massive right hands, one of which caused real damage. De La Hoya, who is horrendously under estimated for his bravery, fired back and threw some ferocious shots right up until the bell rang. Both men embraced and Sugar Shane took a deserved split decision.

You can never beat nostalgia. If you favor a modern bout over an eighties mega fight then you have insulted the entire boxing world. On the night of June 17th 2000 'Sugar' Shane Mosley and Oscar De La Hoya took part in one of the finest welterweight fights ever seen. As Mosley said both men went "soul searching" and left no doubts about their greatness.