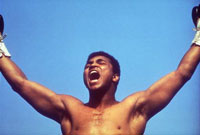 By Thomas Hauser
As Muhammad Ali grows older, there have been myriad books that view him in middle-age and seek to put his accomplishments in perspective. These efforts have been of varying merit. For example, The Soul of a Butterfly purports to be Ali's own reflections on life's journey. Unfortunately, his "reflections" include Muhammad reminiscing about a thirteenth-round knockout of Joe Frazier in 1974 at Madison Square Garden. For the record, Ali won a twelve-round decision in that encounter. Another entry came from Mark Kram, who examined the blood feud between Ali and Frazier in Ghosts of Manila. Kram, who died a year after his book was published, was a very good writer. But his dislike for Ali turned what could have been a wonderful book into a brew spiked with poison.

Now Dave Kindred enters the fray with Sound and Fury (published by Free Press). Rather than focus solely on Ali, he tells the tale of the relationship between Ali and Howard Cosell. "My ambition," Kindred writes, "was to recover Muhammad Ali from mythology and Howard Cosell from caricature." In that effort, he tracks the rise to glory and then the decline of both men.

Kindred is a meticulous researcher and writes well. From 1966 (when he first met Ali) through 1989, he worked for the Louisville Courier-Journal, Washington Post, and Atlanta Journal-Constitution. His three-part 1988 report on Ali's dealings with a corrupt attorney and political operative named Richard Hirschfeld is the best investigative journalism ever written about Ali.

Kindred also had a relationship with Cosell that began in 1977 with a telephone call from the commentator after the writer had praised him in a column for the Washington Post.

Here I should note that I'm not a fully disinterested reviewer. Over the years, I've written extensively about Ali; most notably in the 1991 biography Muhammad Ali: His Life and Times. I also interacted with Cosell on numerous occasions. My dealings with both men are referenced at length in Kindred's book. Having said that, I'll cut to the chase.

The story of Muhammad Ali's rise to unparalleled heights has been told many times but Kindred gives it new dimensions. "Before Ali," he writes, "sports was a slow dance. After, it was rock 'n roll."

Regarding Ali the fighter, Kindred observes, "He made more technical mistakes in one round than Sugar Ray [Robinson] and Willie Pep made in ten. But the mistakes didn't matter. It was one thing to throw a punch at Ali. It was another to hit him. Instincts and reflexes bordering on the preternatural moved him out of harm's way. For him, action moved in slow motion. He knew things. A shoulder's twitch put him on alert before the opponent decided to punch, and he'd be gone. He was a genius. It wasn't with his hands or feet. Light-heavyweight champion Jose Torres said, 'Watch his brains.' The frustration of chasing him, the inability to touch that unprotected chin, the confusion caused by his snake-lick jab snapping against your face. It wore a guy out mentally as much as physically. And the hell of it was, during all this, he would also rain fists on you. Sports Illustrated timed a six-punch combination in 2.15 seconds. Two jabs, a hook, a right to the body, another hook, a finishing right. Count one-thousand-one, one-thousand-two. You have been hit six times by a 200-pound professional fighter who never misses."

Kindred recounts Ali's ring triumphs (most notably, his victories over Sonny Liston, Joe Frazier, and George Foreman). He also pays homage to Ali's greatest glory: the fact that he was Muhammad Ali. Young, handsome, extraordinarily charismatic; a man who's face, in Kindred's words, "turned to cameras as flowers answer to the sun."

The most significant portions of Sound and Fury, as they relate to the young Ali, deal with the relationship between Ali, Malcolm X, and Elijah Muhammad. Kindred explores Ali's early adherence to Nation of Islam doctrine, which he calls "a hateful hodge-podge of racism, religion, and black nationalism." Then he posits that Ali's courage failed him in his abandonment of Malcolm because he feared that, if he sided with Malcolm against Elijah Muhammad, there would be deadly repercussions.

Ferdie Pacheco (Ali's longtime physician and cornerman) told Kindred, "Thirteen people around Ali were, shall we say, disappeared." Kindred himself recounts the fate of several men who inspired Elijah Muhammad's wrath. "The more you knew, the darker it became," he writes. He also recounts asking Ali about the 1973 massacre of seven innocents in a Washington DC townhouse owned by basketball star Kareem Abdul-Jabbar. "Don't know nuthin'," was Ali's terse reply. Kindred also writes that, a month after Ali defeated George Foreman in Zaire, Muhammad told him, "I would have gotten out of this [the Nation of Islam] a long time ago. But you saw what they did to Malcolm X. I ain't gonna end up like Malcolm X."

"You afraid?" Kindred asked.

"I can't leave the Muslims. They'd shoot me too."

Elijah Muhammad died on February 25, 1975, and his son, Wallace, began the process of leading his father's adherents toward orthodox Islam. Thus, another transformation of "The Greatest" began.

Meanwhile, Howard William Cohen, a/k/a Howard Cosell, was creating a legacy of his own. The son of Jewish immigrants, Cohen was born on March 25, 1918. During his childhood, his family lived in a half dozen apartments in Brooklyn, often moving one step ahead of, or behind, an eviction notice. "His whole life," Cosell's daughter, Jill, told Kindred, "Daddy felt like a poor Jewish boy."

Cohen went to college at New York University, where he majored in English. Then he attended NYU Law School. In 1944, he married Mary Edith (Emmy) Abrams, the daughter of a well-to-do Christian family. Their union did not sit well with either set of parents.

Cohen changed his name to "Cosell", practiced law with modest success, and cultivated relationships with the local sports stars of his day by doing free legal work for them. Kindred tracks his rise from a fringe radio reporter to one of the most powerful men in sports. In Sound and Fury, Cosell turns from caricature and bluster into flesh and blood.

For anyone who thought that Howard Cosell's on-air persona was an act; they were right. In everyday life, he was worse. Cosell described himself as "arrogant, pompous, obnoxious, vain, persecuting, and distasteful." He was also obsessively ambitious. Robert Lipsyte of the New York Times labelled him "a storky nasal pushy radio hack" in addition to being "the most important sports journalist of the twentieth century" and "one of the most influential electronic voices of our time."

Cosell and Ali met in July 1962, when the fighter was still Cassius Clay. "No athlete," Kindred observes, "ever raised the art of self-belief higher than Ali. No heavyweight champion ever expressed self-adoration so openly." When Clay and Cosell first crossed paths, Kindred writes, "It was "egomaniacs at play. Anyone who believed in modesty as a virtue and pride as a sin must have worried for the very souls of Muhammad Ali and Howard Cosell."

But more than ego was involved. "Cosell," Kindred posits, "was at heart a social crusader who believed that social issues could be reported through the prism of sports. He had no interest in creating an image of men as heroes simply because they could play a kid's game. He created and sustained the image of his moral superiority and brought to his work a fan's passion, an entertainer's shtick, and a journalist's integrity. What could be better than a fighter who supplied both news and entertainment?"

Hence, the Ali-Cosell circus. "Their's was a partnership more than a friendship," Kindred writes. "Ali and Cosell worked the way comedy teams always worked. They were their own sight gag; the handsome athlete shimmering alongside the homely fellow with the bad toupee. They sounded funny because Ali spoke simply while Cosell's language was that of a sesquipedalian trained at law and infected by grandiloquence born of pomposity."

But underneath it all, something serious was at work. Cosell (while never endorsing Ali's views), defended the fighter's right to practice his religion and box while appealing his conviction for refusing induction into the United States Army during the height of the war in Vietnam. "Without Ali engaging his liberal social conscience," Kindred asserts, "Cosell would never have found his truest voice. And without the embrace of Cosell and the American Broadcasting Company when other networks wanted nothing to do with him, Ali could have been dismissed as a cultural-fringe aberration."

That, in turn, leads to the third major player in Kindred's book; television. The 1960s witnessed the growing dominance of TV in every aspect of American life. ABC was in the forefront of this phenomenon as it related to sports. Under the guidance of Roone Arledge, the network infused its sports programming with show business, and the Ali-Cosell pairing became "must-see TV."

"We had no choice, really, except to listen to Ali and Cosell," Kindred tells us. "Across much of the last half of the twentieth century, they were major players in American sports. One was Beauty, one was the Beast, and we never quite knew which was which."

No sports chronicler in history owed as much to a medium as Cosell owed to television. Early in his career, he had begged for the opportunity to host local weekend radio shows for twenty-five dollars a pop. TV made him wealthy and powerful.

Wide World of Sports introduced him to the nation. Soon, all of America knew his voice. "He hammered consonants," Kindred writes, "and followed the harshness with abrupt slides into hushed tones, each movement a signal of his feeling for the subject at hand. He could read a note to the milkman in a way that let listeners know his great and abiding disappointment in being left two quarts rather than three."

In his own way, Cosell had charisma. His presence added an aura of importance to every event he covered; witness his turning Billie Jean King versus Bobby Riggs and Evel Knievel motorcycling over trucks into major happenings. Monday Night Football made him a national celebrity. He, in turn, was crucial to Monday Night Football becoming a national institution.

As his fame grew, Cosell played himself in a Woody Allen movie and several episodes of The Odd Couple. He made the rounds of TV talk shows with Johnny Carson, Dick Cavett, and David Frost, and appeared on variety shows emceed by the likes of Bob Hope. In 1975, he hosted his own weekly variety show, Saturday Night Live with Howard Cosell. In typical Cosell fashion, he thought he was important enough to effectuate a reunion of the Beatles for the premiere of his show. He wound up settling for the Bay City Rollers. Saturday Night Live with Howard Cosell was cancelled after eight weeks. Undeterred, Cosell returned to his journalistic roots and hosted SportsBeat, which ran on ABC for five seasons. There was a time when he thought seriously of running for the United States Senate.

Then came the decline for both men. Ali's began on the most public of all stages, a boxing ring.

"Ali never learned to fight defensively," Kindred writes. "He relied instead on astonishing reflexes to pull away from danger; or if need be, he simply ran. Now, the legs gone, the reflexes going, he had no defense at all. As Cassius Clay, young, you could not hit him. As Muhammad Ali, old, you could not miss him. He had become a different fighter and a lesser one."

The Thrilla in Manila (Ali's third fight against Joe Frazier) was the fulcram on which the advisability of Ali fighting again turned. Marginal wins and horrible beatings at the hands of other men followed. "Boxing robbed Ali of middle age," Kindred observes. "He was an old man at forty-one."

Then Kindred offers a portrait of Ali in his later years: "He was all but mute, the gloriously expressive face of his youth now an unmoving mask; his movements those he had parodied in lesser men, stiff, slow, shuffling. Once he was all silk and steel. Now he lived in a reduced state of being."

And after referencing Ali's 1996 appearance in Atlanta for the lighting of the Olympic flame, Kindred compares the Ali of different decades. "Through the 1960s and 1970s," he writes, "Ali danced on a high wire in the wind with no net. He not only courted danger; he was danger. After Atlanta, he became a commodity for sale to television, movies, charities, philanthropies, car companies, and watchmakers. He was sanitized by revisionists who preferred the sainted Ali to the dangerous Ali on the grounds that it's best to offend as few customers as possible."

Kindred sees sadness in Ali's decline. Cosell's decline was sad and ugly. There are glimpses in Sound and Fury of a likeable Cosell. He was a devoted husband. It's hard not to smile at the image of Howard in the kitchen in the morning wearing only an undershirt and boxer briefs, without his toupee, his few remaining strands of hair sprouting in all directions, and a cigar in his mouth. And then there's Kindred's recitation of "the complete repertoire" of Cosell's domestic skills: "He found the refrigerator, extracted a carton, and without injuring himself or witnesses, poured a glass full of orange juice."

But the recollections, like Cosell's life, turn sour.

In 1977, Cosell was rebuffed by ABC when he sought to become a network news anchor. Monday Night Football became a burden for him, with the antagonism between Cosell and his broadcast-booth partners (Frank Gifford and Don Meredith) burgeoning out of control. He began to drink excessively before, and sometimes during, telecasts, culminating in a confrontation with Al Michaels during the 1985 American League Championship Series.

There was a time when Ali was cruel in the ring. His profession required it of him. But except for rare occasions, Ali took no pleasure in being cruel. As Cosell grew older, he revelled in it. He became a bitter, angry, vitriolic, melancholy man. Then, in 1990, his wife died of a heart attack. After that, nothing much mattered to him.

In 1991, a cancerous tumor was removed from Cosell's chest. The following year, he suffered several strokes that affected his speech, memory, and movement on the left side of his body. He was also diagnosed with the beginnings of dementia and could no longer function in a public setting. Add congestive heart failure, diabetes, and the ravages of a lifetime of too much drinking. In spring 1995, Cosell fell in his apartment and broke his hip. In the hospital, he moved in an out of consciousness. His weight had fallen to 120 pounds. He died at age 77 on April 23, 1995.

Ali, thankfully, is still with us; although Kindred longs for the Ali who once was. The young Ali, who much of the world fell in love with, would have been in the SuperDome after Hurricane Katrina. Quite possibly, he would have refused the Presidential Medal of Freedom as a protest against the war in Iraq and the torture of Islamic prisoners instead of going to the White House to accept it in November 2005. But Ali is now being recast as a hero in the mold of Joe Louis, who was remarkable in his own right but for different reasons. The Ali who Kindred calls "as near to living flame as a man can get" is gone.

Thomas Hauser can be reached by email at thauser@rcn.com.