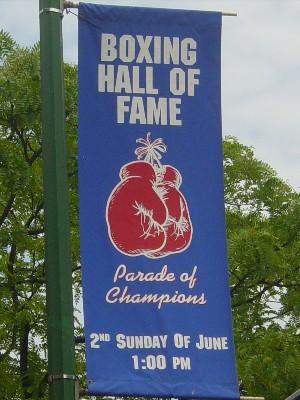 Hall of Fame Canastota banner Paul Upham

Jerry Glick reporting: Every boxing fan and historian can use a reference book that covers the sport as well as this one does. There are a number of similar books that are good, but this one is as comprehensive as any and it has just been updated. "The Boxing Register International Boxing Hall of Fame Official Record Book" by James B. Roberts and Alexander G. Skutt now includes more contemporary names and does that with the same meticulous fervor that they applied to previous editions.

With a forward by Canastota's Boxing Hall of Fame Executive Director, Jeff Brophy, the 942 page tome published by McBooks Press of Ithica, NY, covers almost every prominent boxer dating back to the pioneer era which includes early stars such as James Figg, Daniel Mendoza, Tom Cribb, and Dan Donnelly, to modern day battlers such as Muhammad Ali, Floyd Patterson, Roberto Duran, Ray Leonard, and many, many more.

Each fighter is represented by a list of his fights, his personal statistics, (date of birth, years of activity, etc.), his boxing record, and a brief bio. All written in a concise, easy to read manner that will appeal to fans and experts alike.

Today much information can be easily found on the internet, but this book is devoted to the Hall of Fame and includes not only fighters, but non-participants such as managers, trainers, historians, writers, and promoters.

If you want to get a head start in the story of boxing with its rich and exciting history; if you want learn little facts about some of your favorite fighters that you didn't know before, get this publication. Read it from cover to cover, or jump around from name to name, but owning it, no matter how you choose to enjoy it, will give you a leg up on boxing's past and a hint to its future.

If a reference book can be fun, this is the one.