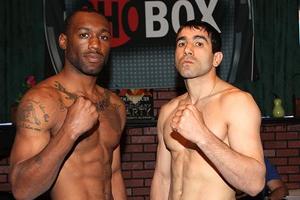 Austin Trout And Frank LoPorto face off

Texas, native Austin "No Doubt" Trout (23-0, 13 KOs) of Las Cruces, N.M, weighed in at 154 pounds and Frank "The Italian Stallion" LoPorto (15-4-2, 7 KOs) of Melbourne, Australia, measured 152.5 pounds one day before their 12-round WBA light middleweight Championship main event at the Cohen Stadium in El Paso, Texas

The fight will be broadcast on ShoBox: The New Generation, tonight( Nov. 11) at 11:05 p.m. ET/PT (delayed on the West Coast) .

In the eight-round middleweight co-feature, Michael "The Brazilian Rocky" Oliveira (15-0, 12 KOs) from Miami, Fla., tipped the scales at 157 pounds and Xavier "The X-Man" Toliver (23-7, 15 KOs) from College Park, Ga., weighed 157.75 pounds.

The weigh-in took place at a packed Mulligan's Sports Bar and Grill with several local television stations, members of the local press and some boisterous fans in attendance.



Below is what each fighter had to say on Thursday:

AUSTIN TROUT:

"I'm treating this fight like LoPorto has the title and I have no choice but to win. Being on SHOWTIME, I need to get the public to respect me and looking good tomorrow night is going to do that."



On the hometown crowd:

"It's not going to affect me either way. Maybe they like me because I'm local. Maybe they don't because I'm an African American who has beat a lot of Mexican fighters. We'll see.



"I'm looking to up my stock. My goal is to clean out the division and become an undisputed champion. (Miguel) Cotto, (Saul) Alvarez, (Cornelius) Bundrage -- if he can hang on to his belt -- I'll face them all. Even (James) Kirkland and (Alfredo) Angulo. They are better known than me at this point."



On critics not respecting his title:

"Where's their belt? I don't care what you call my belt. I'll defend it like I would any other belt. The whole belt system has lost prestige. That's not my fault. Even still, they don't just hand these out in a crackerjack box."



FRANK LoPORTO:

"To be honest, I think my Daniel Dawson fight was tougher than this one. Dawson is tougher than Trout, stronger than Trout. Dawson is tough as nails. If I pressure Trout the same way I did Dawson, he won't last.



"I go in there to do a job. I fight my fight. If he wants to move, I won't let him. I want to bang. I'll put enough pressure on him that he'll have to stand there and fight me. That's what people want to see. I could turn the crowd in my favor with my style."



MICHAEL OLIVEIRA:

"My style in the ring shows my personality. It's important to give the people what they want. I know people will be watching so I want to win -- and win impressively.



"I'd love to fight Julio Cesar Chavez Jr. He is just someone I've been thinking about for a long time. It'd be a great fight.



I'll take this fight where it needs to go. If a KO comes, I'll take it. If it goes long, no problem. I could do 12 rounds if I had to."



On what car he drives:

"A Bentley. It's a GT Continental."



XAVIER TOLIVER:

"I came to win the fight -- short camp or not. A win would put me in a better situation to get bigger fights. I'm willing to take the risk. That's the kind of fighter I am."



On taking a fight on short notice:

"Weight is key and I knew my weight was right. Then I need to make sure I was conditioned. I've been running and sparring. I'm ready.



"It's fine to be considered the underdog. He might be considered the big prospect. He might be considered the favorite but I've got the experience. The kid is gonna have to fight. And with me, it's always a fight."