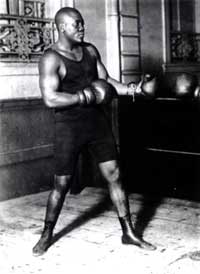 There's one last unopened Holiday Season present for boxing fans who are able to view American Public Broadcasting television. On January 17, 2005, PBS will be broadcasting an original documentary film by Ken Burns written by Geoffery C. Ward on the mercurial life of former heavyweight champion Jack Johnson. Ward is the author of thirteen books of history and biography and a screenwriter who has won four Emmies for historical documentaries for television.

His 1989 biography of the young Franklin Roosevelt, A First-Class Temperament, was a finalist for the Pulitzer Prize and won the National Book Critics Circle Award, the Los Angleles Times Award for Best Biographjy and the Francis Parkman Prize of the Society of American Historians.

Mr. Ward, who wrote the telescript for Unforgivable Blackness: The Rise and Fall of Jack Johnson, as well as a companion book by the same title, graciously hooked up with Contributing Editor Patrick Kehoe for an interview to discuss some aspects of the controversial and iconic figure of the first African American heavyweight champion.

Patrick Kehoe: Geoffery Ward, thank-you for taking the time to speak with SecondsOut.com. Why did you choose Jack Johnson for biographical study?

Geoffery Ward: I chose Johnson after writing the script for Unforgivable Blackness, Ken Burns' new four-hour documentary about him for American Public Television. No film could encompass all that I'd found out about him and I thought a full-scale biography seemed the best way to learn still more.

PK: Is there the danger - in writing on Johnson - of over indulging in the cultural/sociological import of his life as a proto-revolutionary figure, which has become a staple response as a late modernist, post-modern point of view and missing "the historical Johnson" if you will. What are we missing if we read him exclusively via the pop cultural exigencies American activism of the 1960s?

GW: The danger exists. I did all I could to overcome it. I tried hard to portray both Johnson and his world as they were, not as we might wish they'd been. Johnson never saw himself as a proto-anything. All his life, blacks and whites alike, would ask him, "Just who do you think you are?" His answer was always "Jack Johnson." He never thought he needed to be anything more than that - and he refused ever to settle for being less.

That belief drove him to extraordinary achievement and caused a counter-reaction among whites on both sides of the world that eventually brought him down. Johnson's story is not merely American. I spent a good deal of time recounting his adventures in Australia and Britain. The mania to find a "white hope" to restore the title to its "rightful" owners was almost as prevalent there as it was in the States.

PK: In your research, were you able to understand why it was Johnson himself drew a 'colour bar' with respect to defending his heavyweight championship against the other 'major' black fighters of his time, or did the old answer of simple economics bare out to be accurate?

GW: First, as champion, Johnson did fight a black challenger named Jim Johnson - and won despite a broken arm. It's often been suggested that he never took on Sam Langford, Joe Jeanette or Sam McVey while he held the title because he wanted to keep it from going to another black man. But he'd handily beaten all three of them before he won the championship and there was little money to be made in doing it again. As he himself often explained, no one would pay to see him beaten by a black man, and - like Tommy Burns from whom he took the title, and most subsequent champions, black or white -- he was in boxing for the big money he could make.

PK: This is perhaps an unfair question for a limited interview, but let's give it a shot anyway; in terms of Jack Johnson's personality, how would you describe the man himself?

GW: The whole book represents my best effort to answer that question. He was many things - intelligent and egocentric, generous and grasping, heroically unfaithful outside the ring and supremely skilled within it. But most of all, I think, he was audacious. Every time he entered the ring against a white opponent or strolled down State Street in Chicago with a white woman on his arm he literally risked his life and never seemed to care. He was a "pureblooded American" he insisted, and therefore saw no need to deny himself anything available to other Americans. In turn of the century America, when an African-American could be lynched for failing to give over the sidewalk to a white man, that was the definition of audacity. How he got that way remains the central mystery of his life.

PK: One of the fascinating parts of Johnson's life was his 'courting' of Canadian Tommy Burns all over the globe to get a title shot. It was a daring, innovative move for a black fighter in 1908-09 surely.

GW: Johnson's pursuit of Tommy Burns -- across the United States, to Britain, to France, back to Britain and finally all the way to Australia - was relentless and unprecedented. And it was not a belated sense of fairness that finally caused Burns to accept his challenge but the lure of cold cash -- $30,000, an unprecedented sum that he proved literally unable to refuse.

PK: Johnson loved automobiles. Can you enlighten us as to his passion for racing cars.

GW: There were fewer than half a million automobiles in the United States when Johnson won his title. He owned five of them, all gleaming European racing cars of the sort owned by the wealthiest American whites. He was arrested often while driving, sometimes because he really was going too fast, often because white policemen simply couldn't bear to see a black man behind the wheel of such a fine car. I think he loved fast cars especially because of the freedom they afforded him to move wherever and whenever he wanted to, out from under the shadow of Jim Crow.

PK: What was the real story with his tragic relationship and life with Etta Duryea?

GW: Etta Duryea was the fist of three white women whom Johnson married at a time when many American states forbade such marriages. The full story of their relationship is too long and tangled to tell here, but I think Johnson and Etta really did love one another. Each was troubled: she suffered recurring bouts of depression that drove her to try to kill herself several times before she finally succeeded; he drank too much, was easily made jealous and lived with the ceaseless pressure of death threats.

PK: We know Johnson defies time as an iconic figure in American life and history... how do you see him as a figure in the ring and 20th Century athletics in general?

GW: He may have been the best defensive heavyweight of all time. Nat Fleischer, the boxing historian who saw them all from Bob Fitzsimmons to Muhammad Ali, said he was. Styles of boxing have changed so much that it's probably pointless to try to figure out how he would have done against today's heavyweights.

It's sometimes said that his flamboyant personality spoiled things for other black heavyweights. After all, once Johnson lost his title to Jess Willard in 1915, 22 years would go by before another black boxer, Joe Louis, got a shot at the heavyweight title. It seems a pointless argument to me since only a black fighter with Johnson's kind of chutzpah would ever have won a shot at the title in the first place.

PK: If you had to pick one anecdotes about Johnson, that puts him into perspective, what would that be?

GW: The book is filled with stories I like. My favourite - because it is an early and well-documented example of the astonishing audacity I mentioned earlier - concerns the fight that put Johnson on the map: his 1902 contest in Los Angeles with Jack Jeffries, the handsome but hapless younger brother of James J. Jeffries, the heavyweight champion. First, in an era in which boxing garb was distinctly drab, Johnson chose to enter the ring in magenta tights, a move calculated to inflame an all-white crowd already howling for his blood. Then, just before the bell rang he reached down and handed the promoter a sealed envelope, asking him not to open it till he gave the signal.

For four rounds, he toyed with Jeffries, slipping his punches, sidestepping his rushes and whacking him as he lurched past, and cheerfully complimenting ringsiders on their ties. Then, as the fifth round began he shouted to the promoter to open the envelope. The note inside said, "I'll stop Jeffries within fifty seconds after the fifth starts." When the promoter looked up, the younger Jeffries was being counted out. Johnson helped drag him to his corner and whispered into his older brother's ear, "I can lick you, too." Three years later, Jim Jeffries would retire from the ring rather than have Johnson make good that boast.

PK: Mr. Ward, on behalf of our readers, I would like to thank-you for taking the time over the Holiday Season to speak with us and for sharing your expertise on Jack Johnson.

GW: Thanks. Happy New Year.