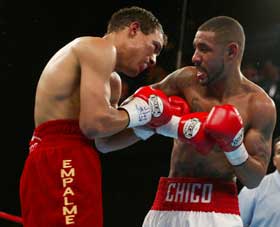 Showtime replay fight of the century Tues and Fri at 11pm ET/PT (pic: Tom Casino)

By Ant Evans: In the nuclear winter fallout from Erik Morales's epic win over Manny Pacquiao a month ago, it was impossible to envision another fight fought in such a white hot furnace of passion, pride and power punches. And yet, six weeks later Diego Corrales bested Jose Luis Castillo in a 10 rounds of beautiful savagery which not only replaces El Terrible's win as the most astonishing of 2005 but also laid siege to the memory of any fight previously called "greatest of all time".

Naturally, TV broadcaster Showtime are already actively working on setting up a rematch between WBC/WBO champ Corrales and Mexican Castillo. They are also salivating at the prospect of two division champ Chico moving up to junior welterweight to face the winner of next month's Kostya Tszyu v Ricky Hatton showdown. But Team Corrales have another target in mind.

Erik Morales.

Trainer Joe Goossen told SecondsOut he doesn't want to see a Castillo rematch: "Here's the thing: for the sake of the health of both these guys, Diego and Castillo, they should never fight again. Everyone wants the rematch, sure, but no fighter should have two fights like that in a career. I'm not that sadistic. Castillo proved his point, even though we ended up with the win. No-one really lost here, it was that type of fight.

"As for Tszyu, I would love for Diego to stay at 135lbs for a while and defend his titles against a row of lightweights. He'll take on all comers - and the one I'd really like to see is Erik Morales to come up and take on Diego. If Bob Arum wants to be a baby about his fighter Castillo losing, then bring your other big name Mexican to the table and try and beat us with him.

"Morales is the guy who I think is the greatest fight out there for Corrales. The fans would kill to see that fight. Diego is now a big star for the Mexican fan base, maybe a hated star because he beat one of their heroes, but the pay-per-view would go through the roof if you take the winners of the two best fights in years and put them together for the undisputed (WBC/WBO) lightweight title."

Arum has essentially accused Corrales of legalised cheating to win the Mandalay Bay, Las Vegas trench war last weekend. Corrales was downed twice in the tenth but bought himself 26 of the most precious seconds of his life by spitting his gunshield out after hitting the deck for the second time. It was enough to clear his head and come back to stop the defending WBC kingpin just moments later.

"So what if Corrales spat it out on purpose?" Goossen said. "That's nitpicking and childish. Diego did that and so what? We never complained about Castillo's low blows, we didn't cry about it. And if we lost the fight we wouldn't be crying now like that. That fight was won fair and square by Diego Corrales - he got a point off for taking the mouthpiece out so that situation was dealt with properly by the referee.

"Diego pulled the mouthpiece out like so many fighters have done. He needed to breath. He needed air. What's the big deal? Diego had been knocked down twice so if anyone should have waded in to score a knockout it should have been Castillo at that point. But Diego had a bigger heart at that point.

"The reality is Corrales knocked out Castillo, who'd never even been knocked down before.

"No-one is Castillo's corner complained or made an issue, just the people who back him promotionally. It is sick for these people to try and taint the greatest fight most people have ever seen with this crap. We've got your rattle, but don't be babies bring Erik Morales, if you dare, and try and get your belt back."

As for last Saturday's win, Goossen said not only is it the greatest win of his career but also the most magnificent fight he's ever witnessed.

"It was a nose to nose, mano a mano war between five star generals with five-star techniques, real champions with huge punches and enormous hearts," Goossen said. "Without a doubt it's the best fight I've ever seen or heard of. Edge of your seat, back and forth. Even the most jaded, experienced boxing dignitaries and fans were saying it was the best fight they'd even seen. Even Budd Schulberg, the writer of 'On the Waterfront' who was friends with Joe Louis and is 92 years old, told Diego it was the greatest fight he's ever seen. And imagine the fights he's seen.

"Watching it from the corner... I'm under the doctors' care right now. They've got me on all sorts of stuff for my heart. My heart couldn't take it. Watching it you sensed that at any second either guy could hurt the other and that's exactly what they did every other second.

"In the first five rounds they both took incredible shots. I think Castillo took more of the heavier shots and that's what wore him down even though Diego was dropped twice later on and was worn himself. Castillo was debilitated."

Corrales went in with considerable height and reach advantages and so, despite Chico's pre-fight talk of being the aggressor, many were surprised the former two-time 130lbs champion took the fight to the Mexican from the first round. Most neutrals believes Corrales needed to jab and box, especially early on. Was Goossen surprised that his man grabbed the bull by the horns so early?

"I'd be the last to be surprised because I told him to do that," Goossen laughed. "The instructions I gave him were to do exactly what he did - take it to him. Diego isn't a boxer or a mover by nature, he's a fighter and a puncher. But he was the bigger man and he hit harder than Castillo, we believed. I told Diego: 'If we let this guy off the hook early on and don't try to dehabilitate him by hitting him and hurting him early on we're in trouble because Castillo always comes on strong late on.

"If we'd gone easy in the first half of the fight and Castillo started round seven without been hurt he'd have taken over. We knew that so we hit him to the body, buckled him with left hooks and two out of three judges had Corrales ahead going into the 10th.

"I can only imagine what Castillo would have been able to do in the last rounds of the fight had we not put a beating on him early on. Corrales has to do what he had to do to hurt this guy - boxing him early on wasn't an option. Floyd Mayweather Junior (who twice out pointed Castillo, albeit once on a highly controversial decision) has the best legs and arms in boxing and he couldn't outbox Castillo. Boxing just don't work with this guy - but I guarantee you they weren't prepared for Diego to take the fight to him from the first bell. Our strategy surprised everyone but I think the fact we won and were ahead on points too shows that we were correct."

However, the fight nearly ended with Corrales knocked out in the tenth. Castillo floored 'Chico' with a left hook and then put him down once more and for all the world it appeared that the lanky legs of Corrales would let his bottomless heart down.

"The fight was seemingly over for Diego at that point," Goossen admitted. "But I never believed the fight was over even though I couldn't have known Diego had such a dramatic comeback in him. I knew Diego was alright because he had the wherewithal to pull his gum shield out."

That move, an old pro's trick to buy more time to recover when hurt, allowed Corrales 26 precious seconds to recover and allowed Goossen one last chance to speak with his desperate fighter.

Goossen said: "I gave him one piece of advice."

What?

"Minus the expletives, I told him: 'You gotta get mean right now! You gotta get inside on him now or it is gone! This moment is the whole fight!' And Diego went right at him, throwing combinations, Castillo fought back but was caught by a left hook and that punch started the back pedalling for him and he was stopped on the ropes. Diego assaulted and attacked him with fury. Referee Tony Weeks made a great call because Castillo had nothing at all to defend himself with at that point. "