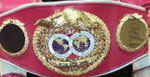 By Ray Kilgore: William Guthrie had the type of lifestyle that if you were to predict where he'd be on July 29th 2006, the betting odds would have been: serving a life sentence in prison or buried at some grave site in St. Louis. But on July 29th 06, the former IBF Light heavyweight champ will fight for the IBF Cruiserweight title on the undercard of Prince Badi Ajamu vs. Roy Jones Jr., and looks to make noise in the boxing world once again.

It's said life isn't fair and Guthrie knows this too well. The 6'1" fighter is the oldest of four brothers and sisters, and was put in the role of caretaker/ parental figure of his mother and father's who drug use spawn out of control. To make matters worse, his step-father was also hooked on drugs. Still yet, Guthrie was raised in the same crime infested, drug abusing, gang afflicted neighborhood that Leon and Michael Spinks were raised in St. Louis.

Like most kids in the neighborhood, Guthrie had little to look forward to since most of his days and nights was spent in and out of foster homes. Although intelligent and verbally skilled, school wasn't able to stimulate him to the point of helping divert his attention from his personal struggles at home. But what school failed to do, boxing made up for. Guthrie not only enjoyed the sport, but was able to master the amateur level and was a four-time Golden Gloves winner and a National Golden Gloves champ.
But by this point in his life, the father of 12 children, by eight different women, had become so involved in the drug world, boxing took second in his life, and this was no more clearer when he was kicked off the 1988 Olympic boxing team because he failed a drug test.

Shortly after being kicked off the team, Guthrie turned pro but would soon hit an all time low with his drug usage and selling; in just after his 2nd pro fight, Guthrie was busted again for drugs after police found four ounces of crack cocaine in his pockets, and two packets of cocaine in his underwear. Guthrie was 22 years old.

"Prison kept me from being killed" the fighter says reflectively. "There were times when I didn't think-and they told me-I wasn't going to get out." Guthrie found it tough to keep his sprits and mood up while in prison, but this changed after he received a visit from "Smokin" Joe Frazier. "He [Frazier] told me 'You can either be productive or take away from it [the community]' and at that moment, Guthrie made the decision to change his life.

After serving 4 ½ years, Guthrie was paroled and took the first step to changing his life; he told his former drug connections he was finished with being around drugs, and stopped hanging with people that put his life in harms way. "There has been only one hit on my life since I got out [of prison]," and Guthrie took the attempt on his life as a sign of the next step he needed to make in the process of changing his life; he moved out of the neighborhood and relocated to Florida.

Shortly after setting in Florida, Guthrie found his love for boxing had returned, but he faced one problem-his weight was up to 256 pounds. "We [some friends and James "Buddy" McGirt] where having dinner at an upscale restaurant in Florida when I whispered to Buddy that I was thinking of coming back" contends the fighter who earned his GED, and is in the process of starting a business dedicated to helping other fighters.
"He [McGirt] asked me 'why you wanna do this [boxing]? Look outside you have a Rolls-Royce and lvin' good,' but Guthrie, who now says he's learned that overcoming is something he thrives on, was serious and ready for the challenge he faced in his "second" career as a fighter.

"I met Buddy at his home and we made a pact. As long as he didn't offer me a cigar, I was OK. Up to this point, he hasn't offered me one or smoked one in my company;" and on July 29th, Guthrie and McGrit will look to add the Cruiserweight title to Guthrie's collection. If he wins the title, Guthrie plans to give the belt to his friend's mother in honor of her son who lost his life after being shot and killed in a boxing gym.
As for his future in boxing, Guthrie says he wants to eventually compete at 175 pounds, and overall, he has no regrets, but does acknowledge that a fight with Roy Jones Jr. would have been great for his career. "I can't say I didn't want it [the fight], but this is not the NFL or NBA where guys have to fight each other," yet he quickly adds, "the worse thing a boxer can do is to hold on to the past."

In the movie 16 Blocks, Bruce Willis tells the prisoner he's trying to protect something a long the lines of time change, seasons change, days change but people don't change and William Guthrie is evidence that people do and can change if they truly want to.