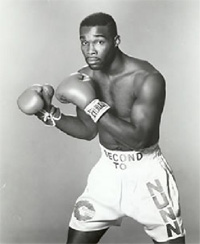 Michael Nunn, as he was

Exclusive interview by Ray Kilgore: Michael Nunn travelled the world going to places such as: Paris, Berlin, Miami, and Las Vegas. He had a bodyguard named Mr. T from the movie Rocky III, he had a friendship with famed actor Gene Hackman, HBO boxing did profiles on him, superstar running back of the 49ers Roger Craig was his brother-in law, he was on most boxing writers' "pound for pound" list, and he was so skilled in the ring, his talents were being compared to Sugar Ray Leonard; although he never earned the money Leonard did, Nunn's total of $6million earnings and world titles didn't cause him to complaint.

But today, Nunn has no famous friends, doesn't travel the world, and the money he earns will take two life times to reach what he made in the ring. But more depressing is Nunn lives a life where he's told: when to sleep, when to wake up, when phone calls will be, and when he can visit family members. Michael Nunn sits in the United States Penitentiary Leavenworth, Kansas, but the former champ appears in good sprits, and is hopeful about his future as he talked with SecondsOut in his first prison interview since being sentenced to more than 24 years in January 2004.

The day of this interview the mood was rushed and controlled. Although the interview had been planed for months, it was clear the staff who "supervised" the interview viewed it as an inconvenience since a meeting later day was top priority. In fact, Nunn reiterated the staff's feelings by saying, "Let's go - we don't got a lot of time. This guy has a meeting to go to."

Several months ago, Nunn and the other inmates where on "lockdown" for two weeks, and for a fighter who like most boxers, want and need control, the internal stress of being in prison is a slow death.

"I didn't come to prison to get into any problems" says the 41 year old former fighter, who gets a dozen or so letter and autograph requests daily. "I mind my own business and keep to myself."

Nunn the father of four his oldest Michael Jr. 22, was advised not to answer certain questions about his troubled youth and recent problems that landed him in prison. Nunn grew up in Davenport Iowa with his brother Willie and sister Joanna, and in a 1989 HBO interview, Nunn admitted to being "bull headed" and the mixture of his defiant nature and the rough streets didn't fit well.

"Davenport is a place where many kids got into trouble," says Nunn's long time friend Josh Morgan. "It [Davenport] was a place where kids didn't need to look for trouble it was around the corner."

And Nunn walked around that corner many times. Nunn's behavioural problems spilled over into the school setting; he became such a problem student, school officials transferred him to a vocational school for troubled youth; but that didn't solve Nunn's behaviours, and eventually he left high school before earning a diploma.

As with the theme of many fighters, at age 13 Nunn found that boxing give him purpose and a sense of satisfaction in his life. Nunn joined Pena's boxing gym in Davenport because "all the kids were doing it [boxing] so I thought I would to." Nunn didn't make the 1984 Olympic team, but he'd soon meet Dan and Joe Goossen and the team would help take each other to the top of the boxing world.

"They [Joe and Dan] really believed in me" contends Nunn. "Dan was a great manager and Joe was a motivating trainer." Nunn, who went by the boxing alias "Second to Nunn," won his first major world title with the Goossens in 1988 after he stopped Frank Tate in the 9th round.

Although Nunn has praise for the Goossens today, Morgan says their relationship was difficult at times. "It was Mike who really put the Goossens on the map and like any relationship; it was a love hate one." Nunn split from the brother team in 1991.

Although Nunn fought in the era of: Hagler, Hearns, Leonard, and Duran, he never got an opportunity to showcase his skills against them. "I put the money on the table but they never chose to fight me" maintains the fighter whose ring record was 54-4 (35 KOs). He further adds promoter Bob Arum, whom Nunn had a seesaw relationship with, did what he could to try and make the fights with the "legends."

"I give Bob a lot of credit. He seen the dollars in these fights [with the "legends"] but they never accepted the challenge" he says with a mixture of emotions in his voice.

In a similar situation as with the "legends," a fight with Roy Jones Jr. never came to be. Jones won the Super Middleweight title in 1994 when Nunn lost his Super Middleweight title that same year.

"They offered us $125,000 and he [Roy Jones] was going to get 3 million" says Morgan with laugher in his voice. "There was no way Mike was going to take that kind of money when he was just as good or better than Jones."

But one fight Nunn took was against James "Lights Out" Toney. Nunn was 36-0 and had been leading on all judges' cards when in the 11th round; Toney not only knocked Nunn out, but added further humiliation by stopping him in his hometown of Davenport. Nunn's only response of the Toney fight today is, "One slip-up that's all it takes in boxing."

But Morgan offers a different viewpoint. "If you look at the tape you'll notice he [Nunn] made a jester to his mother that things were OK, and Toney hit him with the punch." Nunn says he and Toney never re-matched because: "He didn't want the fight."

After the loss to Tony in 1991, Nunn would win the W.B.A. title in 1992 at Super Middle Weight and held it until 1994, but by this point, his personal life was getting out of control. In February 1993, he was arrested in Orion, Ill after police found two containers of beer and a 9-millimeter handgun in his car. He was involved in drugs, and things seemly got worse when Omaha police issued a warrant after he allegedly harassed a woman by phone. When police came to his sister's Joanna's, home, they found the 6' 2" fighter hiding in her clothes dryer.

But it was in August of 2002 that marked the end of Nunn's boxing career and freedom. According to court records, Nunn was accused of buying one kilogram of cocaine from an undercover FBI agent at a Davenport hotel. Authorities said the amount of cocaine Nunn brought had a street value of $24,000.

"Most people who grew up in Davenport didn't return" notes Morgan. "If you look at all of the people who made it, they never came back. But Mike, being the person he is with a big heart, loved Davenport and kept coming back when it wasn't good for him."

Nunn pleaded guilty to one charge of conspiracy to distribute cocaine, and was given a higher sentence because of his past history. "Mike takes responsibility for what he did," says Morgan who speaks to Nunn almost daily, "however he doesn't agree with the length of the sentence."

If Nunn is released early, he plans to reside in Las Vegas and says he wants to start his life over. "I want to get out and do something positive and not let this situation make me bitter" says the fighter who won the Ring Magazine's "Knockout of the Year" for his first round KO of Sumbu Kalambay in 1989. Nunn says if he were released today, making a boxing comeback "would be a strong possibility," but if cannot box, he plans to be involved in the sport in some fashion.

Nunn once spent an afternoon at his oldest son's elementary class for a "show and tell" session; he then went to his former high school to give a talk about the importance of staying in school and making wise decisions. Nunn followed the visit at his old high school by stopping at a local hospital in Davenport to talk with patients and sign autographs, and ended his day by jumping rope with young girls in the community.

The Michael Nunn who granted this interview seemed to be the person who gave of himself freely when he visited all those places, and took time to be a real champion. The Nunn who sits in a prison today is a man who lost focus, direction, goals, and purpose in life.

Nunn's the only one who knows if he's a changed person or not, and although he'll never win titles or earn millions again, his main objective isn't to get accolades, it's to get released and show doubters, like he did as a fighter, that he's indeed second to none in the area of redemption.