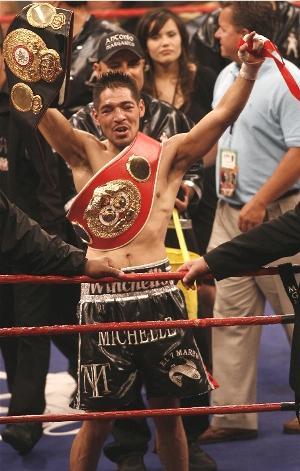 Margarito wins: HoganPhotos.com

By Matthew Hurley

Yes, it was that good. Going into the welterweight showdown between WBA champion Miguel Cotto and challenger Antonio Margarito boxing fans were salivating over a match up that guaranteed fireworks.

It was the type of fight that boxing aficionados hyped themselves to marginal fans or non-boxing fans with the pronouncement "If you only watch one fight all year, watch this one." The pay-per-view numbers aren't in yet and they probably won't break 300,000 but those who did plunk down their hard earned money for the telecast certainly got their nickels worth. And those who witnessed it live in Las Vegas are still wiping away the residual sweat from their brows. It was that good.

Kieran Mulvaney of ESPN.com described himself as "in shock" at the aftermath of Margarito's eleventh round TKO of Cotto because he felt after following the Puerto Rican fighter for years and witnessing his rapid progression as a fighter that Cotto had reached a point where no matter the adversity he could find a way to win. I had much the same reaction when the fighter's uncle/trainer threw in the towel. I've always admired Margarito but, to these eyes, he just didn't seem to have that certain something that would lead you to describe him as 'special'. Cotto did and for at least six rounds he looked like the best fighter on the planet – with all apologies to Manny Pacquiao. But Antonio Margarito, whose head must be made of titanium, is a force of nature. His nickname, 'The Tijuana Tornado' suits him. He's like one of those monster movie villains like Jason or Freddy Krueger, nothing stops him. That is what makes him a very special fighter.

There were moments in the bout when Cotto would land beautiful three punch combinations flush on Margarito's jaw and the Mexican wouldn't even flinch. His head would spin, sometimes almost whacked 180 degrees and then snap back, his eyes clear and cold. How disconcerting that must have been for the champion.

"I trusted my preparation," Margarito said after the signature win of career. "Slowly, the tornado rumbled. I told my corner that I would wear him down and then knock him out. That was the game plan."

It's been a long, lonely road for Antonio Margarito. His rise to the pinnacle of his profession is really how it should be for a fighter determined to make his mark, determined to prove his worth, determined to be great. Setbacks only made him stronger, more dangerous and, apparently, impervious to pain. The fighter who stepped into the ring Saturday night against a champion on the cusp of greatness himself was a man who would not be denied. No matter what Cotto did, and he did everything beautifully, the 'Tornado' kept gaining momentum until it swallowed the champion up. After six rounds of wicked combinations, fancy footwork and deft defensive maneuverings Cotto looked as though he had been hit by a windmill and you suddenly sat back and said, "Wait a minute. What happened to this guy?"

"I am very proud and very happy I was able to give the fans a great fight," Cotto said, as quoted by the Associated Press, before being taken to the hospital for observation. "I'm going to take a long rest and decide what to do next. This was Margarito's night. He's an excellent fighter. He did his job better than I did."

If any fighter deserves a break it is Miguel Cotto. After leaving the junior welterweight division behind, he has faced four top tier welterweight contenders in row. His fearlessness may have cost him the title against Margarito, the so-called 'most avoided man in boxing', but to go out on his shield as he did will only contribute to his legacy. A loss means nothing to fans when a fighter lays it all out on the line. In fact, in an odd way, when a fighter finally succumbs after giving to the sport everything he has he often becomes even more beloved. In that vein, fighters such as Thomas Hearns, Erik Morales and Fernando Vargas come to mind. It's yet to be seen how Cotto handles this loss, both mentally and physically, but at this point in time his stature on the current boxing scene is virtually undiminished.

As for Margarito, a fighter who waited for so long to step onto the grand stage, he wants another big fight as soon as possible. There was a sense after his one round blowout of Golden Johnson that he realizes he only has so many years left and he wants to wreak as much havoc and make as much money as he can before he's done. Before Saturday night a potential mega-match up between Cotto and Oscar De La Hoya was apparently in the offing. Although De La Hoya had said that his wife, who is of Puerto Rican descent, didn't want him to fight another Puerto Rican fighter as he closed out his career. A rather odd excuse for a fighter to make but that is no longer a problem after Margarito's victory. It would be very brave indeed for the aging 'Golden Boy' to take on the 'Tijuana Tornado' in December in what is alleged to be his final ring appearance. There have been peripheral discussions for a bout between De La Hoya and Manny Pacquiao, a lightweight, which would be a huge event but in reality would seem an odd David and Goliath match considering that Oscar is basically a 154 pound fighter and Pacquiao just fought his first fight at 135 pounds. A fight with Margarito makes more sense but does it make more cents? Probably not, and after watching Margarito systematically break Cotto down Oscar probably wants no part of Antonio. But Margarito would certainly love to fight the cash cow. After all, his promoter Bob Arum told him immediately after beating Cotto that he is now in line to make some serious money.

Whatever happens in the aftermath of their thrilling battle Antonio Margarito and Miguel Cotto earned a place in boxing lore alongside other great ring battles. They gave the fans what they wanted, what they needed and left them longing for more. I've already received calls for a copy of the fight from friends who didn't heed my advice on buying the pay-per-view. But those who did, to a man, thanked me and can't stop talking about what a great fight they saw on Saturday night.