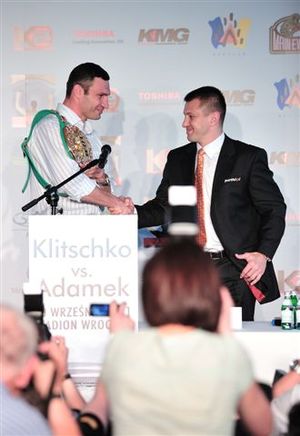 Vitali Klitschko and Tomaz Adamek shake hands

Heavyweight title challenger Tomaz Adamek believes the way to beat Vitali Klitschko is to adopt a high workrate from the start and weather the early storm before taking over the fight late on. The 34 year old former light-heavyweight and cruiserweight world champion challenges Klitschko for the WBC heavyweight crown at the new Miejski stadium in Wroclaw, Poland on September 10 and insists he has the desire to defeat the long time champion.

Speaking at a press conference in Poland earlier this week Adamek said: "I fight differently than I used to. I take a lot less hits, I'm more balanced. If you have a knack to box I think it's impossible not to keep learning. Everything is possible. You have to have faith and never give up. If you give up, you'll never win."

Adamek also dismissed that he is too small at a little over 6ft and 215lbs to defeat the much bigger Ukrainian champion: "In both Heavyweight and Cruiserweight they all said I was too small, and now it's (heavyweight) a hard weight class," said Adamek. "As he (Vitali) gets older he's trying to do impossible things. I have shown that with determination you can win. I have a great trainer who taught me a lot since. This lets me know that you can always beat the strongest people."

In terms of how the fight will develop Adamek believes a high workrate may just tire the bigger older champion "If I keep pushing a high pace then definitely(thinks Klitschko will tire) because he is a bigger and taller guy so he tires faster. I have to keep changing my position while striking. This is what I'll be working on with Roger. I'll be working on being fast. This is an area where I'll be able to beat him."



Many opponents in the past have tried to defeat Vitali Klitschko so how will Adamek prevail where others have failed?. "I'll have to work up and down. He's a big guy. We're working on that, " said Adamek

"I'll definitely have to keep a low position so I can get away from some serious strikes. That's the key. The rest you'll have to wait until September 10th to see. I have to represent myself well for Poland and the rest of the world."

"If I take on a challenge I'm going to put 120% into it. I invite you all to the fight on September 10th. You can watch it live in the stadium, or on TV. Best wishes to all.."

May 27, 2011