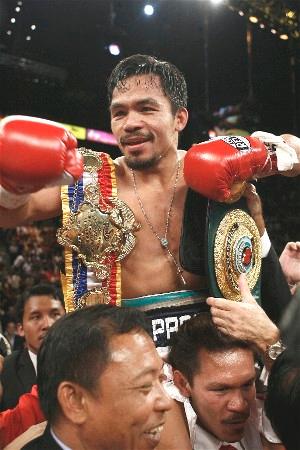 Manny "Pac-Man" Pacquiao

In today's edition of Ask The Editor (ATE), we ask who gets burnt if Manny Pacquiao-Floyd Mayweather is not made, question the return of Antonio Margarito and preview the Wladimir Klitschko-Alexander Povetkin battle. We lament a possible David Haye-Audley Harrison match, spin the Super Six boxing upset bottle once again and much more.

Name : Gino Lorenzo
Country : USA
Your Question :
I'm still not convinced that the Pacquiao-Mayweather fight will happen this year. If I'm right and it doesn't go ahead, whose reputation of the two do you think suffers more?

CLIVE BERNATH ANSWERS: Looks like it could happen on November 13, Gino. As far as I'm aware Pacquiao and promoter Bob Arum have removed all the obstacles and are waiting on Mayweather. As far as whose reputation will suffer? I don't think either reputation will suffer. But I do think boxing as a whole will suffer badly. This is the ONLY fight out there that truly warrants superstar status. It has to happen.

PAUL UPHAM ANSWERS: If Mayweather-Pacquiao doesn't go ahead, for whatever reason, many will blame Floyd simply because they don't like his public persona. With the clock seemingly ticking on Pacquiao's boxing career with his new political commitments, November 2010 is the time for the fight to be made.

JERRY GLICK ANSWERS: Since most people say that Floyd is looking for excuses to avoid Manny, I would say that he would suffer more, BUT I fully believe that it will happen in 2010.

Name : Ronnie Baxter
Country : USA
Your Question :
Does the SecondsOut team think Antonio Margarito deserves to get a rematch with Miguel Cotto? I know Bob Arum wants it, but does Margarito deserve it. I still haven't seen where Margarito has apologised for the illegal hand wraps he used against Shane Mosley. Will the US Commissions even give him a license?

CLIVE BERNATH ANSWERS: Ronnie, I'm sure a commission somewhere will licence Margarito. As for does he deserve the fight, this is pro boxing remember, deserving of a world title shot does not even come into it?

PAUL UPHAM ANSWERS: Antonio Margarito and his trainer should be banned for life from boxing and doing a long stint of time in a Californian prison. What would we all thinking now if he had of used the loaded hand wraps against Shane Mosley and Shane suffered a serious injury which took his life? There are no excuses for illegal hand wraps and it should be a criminal offence.

JERRY GLICK ANSWERS: I have a deep respect for Bob Arum, but I differ strongly over the issue of Margarito. He said that he believes that the Mexican ex-champ will be allowed to fight where ever is the selected locale, but we shall see. Luis Resto never fought again after doing a similar thing that Margarito and his trainer allegedly tried to do against Mosley but got caught by Naseem Richardson in time to prevent a possible tragedy. No need to say he's sorry. What would he be sorry for? Getting caught?

Name : Richard Driver
Country : UK
Your Question :
With the Wladimir Klitschko-Alexander Povetkin fight going ahead, does Povetkin have any chance at all of winning?

CLIVE BERNATH ANSWERS: Personally I think he does have a chance. I see Klitschko winning a decision but it could be very close.

PAUL UPHAM ANSWERS: Anyone who can land a clean, hard punch on Klitschko's chin can beat him. There is a reason why Wlad sticks behind his long jab and rarely engages until he is confident of victory. If Povetkin comes in confident and is prepared to throw his best punches, it could be another defensive effort from Klitschko.

JERRY GLICK ANSWERS: Any big man with two hands could win, but Wlad has nestled comfortably in his position as champ and I see the same right hand landing on this challenger as it did on the others. You know the one I mean. It's the one that he hides behind a huge left jab.

Name : Sean Duffy
Country : UK
Your Question :
Evening all, just realised this is a bit of a rant so please stay with me…..I've just been trying to get my head around the prospect of David Haye vs. Audley Harrison, which has not yet been confirmed and I'm really hoping it isn't. I've been to a fair few of Haye's fights and was in Paris on the night he won the cruiser titles and I'm beginning to get bored by the whole thing at heavyweight with him. However, after reading a bit more about everything to do with the Klitschko's though it does kind of show that they're not interested in fighting anyone half decent. We had the whole 3 rematch, Haye only taking the money from Setanta and all the fights in Germany and I've now been reading that Vitali has cut the initial offer to Valuev from $2.5m to $1.2m. I know these fellas are making easy money back home but this is killing the sport. It seems to me that boxing is going the way of football, purely about money with no real interest in competition as long they can pull the wool over Joe publics' eyes. Khan, Haye, the Brothers grim etc have no interest in taking on the best just anything to make a quick and easy buck then proclaim to be the best and get about avoiding the real challenges out there. I know the saying 'boxing is a business' but a lack of competitive fights are going to kill this business. It won't be long before people in the UK get sick of it, we get uncompetitive fights thrown at us all the time on PPV and now it looks like we'll be getting Khan vs. a washed up Casamayor or Marquez and Haye vs. Harrison who has yet to face an opponent ranked in the top 20 of any sanctioning body. £15.95 for that rubbish and I can't see the undercard being anywhere decent either. I'm beginning to lose interest in world level boxing, I'm sick of the excuses. I'm off to find a local amateur tournament.

CLIVE BERNATH ANSWERS: Richard, with all due respect. Whenever we get these questions about people moaning that PPV cards are not worth the money, etc. I keep saying the same thing. If you don't think you're getting value for money, don't buy it? I'm hearing November 13 could feature a double PPV on Sky, Mayweather vs. Pacquiao and Harrison vs. Haye. If that's true then Pacquiao vs. Mayweather is great but Haye vs. Harrison, a world title fight, no chance. Let's be honest. Haye did nothing to warrant a shot at Valuev and Harrison did even less to deserve a crack at Haye. But I guarantee Haye vs. Harrison will be a success at the box office even though it's no more than a European title standard fight at best. Why? Because people like us will buy because we love boxing.

PAUL UPHAM ANSWERS: I think both of the Klitschko's beat Haye and anyone else out there now regardless. Boxing fans need to send a message and switch off when they aren't getting the quality they want. Boxing will shoot itself in the foot eventually if it doesn't make the best fights. But in defence of the Klitschko's, I don't think there is much quality out there now to choose from and you can't blame them for that. The ball is in Haye's court to make a fight with either Wladimir or Vitali. But, with Haye facing Harrison, how would you feel if Audley knocks him out with one punch?

JERRY GLICK ANSWERS: Don't despair, the lower weights are exploding. From 140 to 168 pounds the health of boxing is just fine.

Name : Johnny Peters
Country : UK
Your Question :
There has been some rumors around about Joe Calzaghe making a comeback. Does he have anything to gain by fighting again? What fights would make it worthwhile.

CLIVE BERNATH ANSWERS: Personally, I would have loved Joe to carry on and pass Marciano's record. I really think he had three more good fights in him. But now it's too late and I WOULD NOT WANT Joe to risk his legacy.

PAUL UPHAM ANSWERS: Who is Calzaghe going to fight? Hopkins? The winner of the Super Six? How about Joe Calzaghe vs. David Haye. Would that grab your attention? Calzaghe is better off now staying retired unless it is for a really meaningful fight that adds to his legacy.

JERRY GLICK ANSWERS: When he was in New York to fight Roy Jones, I asked him if he was interested in going for Marciano's 49-0 record and he said at the time that he didn't want to stick around that long to do it. I thought he was wrong about how long it would take, but I believe that he made the right decision for himself when he quit at the very top of boxing and a comeback may tarnish the superb career that he had. Stay home Joe!

Name : Claus Achton
Country : Denmark
Your Question :
When the Super Six tournament commenced, most viewers would most likely have had Mikkel Kessler, Arthur Abraham and Carl Froch as favourite to win. The two Andre's from the USA are the names now most mentioned as eventual winners. What chance do you give the three more experienced boxers to become the true champion?

CLIVE BERNATH ANSWERS: I still like Abraham but Ward for me is the man to beat.

PAUL UPHAM ANSWERS: Anyone can win on the night. Home ground advantage has been 100% for victory so far. It depends on where the semis and final is held. I am not writing off Kessler, Abraham or Froch just yet. It has been a great tournament so far and the drama keeps twisting.

JERRY GLICK ANSWERS: All these guys are tough and it can still go to anyone but Ward looks as though he has stepped out of the pack at the moment.

Name : Mike Waterhouse
Country : USA
Your Question :
A Mayweather-Pacquiao fight is getting most of the talk, but what other super fights that are likely to be made in the second half of this year are the team looking forward to?

CLIVE BERNATH ANSWERS: I said in an earlier question, Mike, there is no other fight. On a smaller scale I'd like to see Haye in with one of the Klitschkos.

PAUL UPHAM ANSWERS: Donaire-Darchinyan 2, Marquez-Katsidis and Wonjongkam-Naito 5. That'll do me for 2010.

JERRY GLICK ANSWERS: Hmmmm. Now that's a tough one Mike. How about whoever competes in the final fight of the Super Six? Maybe a showdown between Haye and any Klitschko who is available? Or maybe Juanma vs Gamboa.