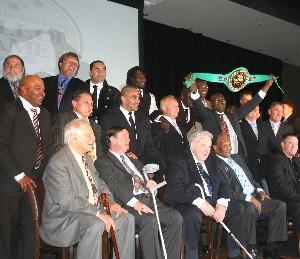 parade of champions

By Paul Upham in Melbourne: The 2008 Australian National Boxing Hall of Fame induction ceremony was held on Saturday October 11 in the Members private dining room at the Melbourne Cricket Ground. Nearly 500 people attended the dinner and ceremony, enjoying the majestic view out onto the floodlit MCG playing field.

"Everyone I spoke to is saying it was the best dinner so far," said Hall of Fame President Brett McCormick. "All of the boxers who attended enjoyed themselves and have told me to just let them know when they can come back again next year."

"The consensus is this was our best induction ceremony so far," agreed Hall of Fame exhibit curator Arnold Thomas.

Special guests at the dinner were former super featherweight arch rivals and now close friends, Jeff Fenech and Azumah Nelson. 44 year-old Fenech was making his first appearance at the Hall of Fame since being inducted in 2003.

"To all the people who have supported the Hall of Fame, without you this dinner wouldn't be possible," said Fenech. "I am honoured to be here. Thank you for your patience, I am sorry I wasn't able to make it here in earlier years. To all the great fighters here, it is a pleasure and an honour to be in the same room as you guys. I am honoured to be mentioned in the same breathe as a Lester Ellis, Barry Michael and anyone else who has been inducted into this Hall of Fame."

"It has always been my honour and a great pleasure for me to be in Australia," said Nelson. "I have great friends with long lasting friendships here with the beautiful people of Australia. This has been possible through the magic of boxing and I have established a special relationship between Ghana and Australia."

Former world champions and still active boxers Lovemore Ndou and Gairy St Clair were also making their first appearance as guests at the Hall of Fame.

"It is an honour to be in the room with some of the best fighters in the world," said Ndou. "All of this here at the Hall of Fame could not be done without the fans. Without the fans, boxing is nothing, so I want to thank all of the fans and everyone who continues to support boxing."

"It is a pleasure for me to be here," said St Clair. "I came from a poor country like Azumah Nelson and John Mugabi. It means so much to me to be living in Australia as an Australian citizen. I love the country and I love the people. Thank you."

2008 Australian National Boxing Hall of Fame Inductees

Moderns
Charkey Ramon
Lawrence "Baby Cassius" Austin

Non Participants
Gus Mercurio
Jack Rennie

Veterans
George Bracken
Eddie Miller

Old Timers
Sid Godfrey
Jerry Jerome

Pioneers
Bill Farnan
Jack McGowan

Honorary International
Ted "Kid" Lewis

For Gus Mercurio, his induction was the crowning achievement of a long career as a boxer, referee, judge, administrator and past President of the Hall of Fame.

"I cannot describe how special this is being inducted into the Hall of Fame," said Mercurio, with just a hint of a tear in his eye. "For me, it has always been about the boxers. I love being with the boxers and just wanted the best for them."

The Hall of Fame parade of champions highlight included those inducted during the evening, as well as Jeff Fenech, Azumah Nelson, John Mugabi, Henry Nissen, Johnny Famechon, Paul Ferreri, Sam Soliman, Barry Michael, Lester Ellis, Jeff Malcolm, Lovemore Ndou, Gairy St Clair, Graham Brook and Ken Salisbury.


Paul Upham
Contributing Editor