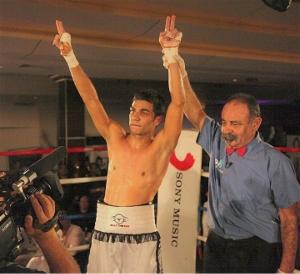 By Adam Santarossa at ringside: Billy "The Kid" Dib is the new IBF Featherweight World Champion after defeating Mexican Jorge Lacierva by unanimous decision to win the vacant title at the Olympic Park Sports Centre, Homebush on Friday evening.

Dib began the fight confidently using his jab early to find his range, whilst Lacierva looked to end things early with a series of wild punches. The Dib camp had said before the fight that they expected some dirty tactics from Lacierva, and the Mexican wasted little time in coming to the party by forcing Dib into the corner, which saw the referee issue a caution to the Mexican fighter.

The Second round saw Lacierva looking to clinch throughout. His tactics were clearly to unsettle Dib, as Lacierva was warned for continued holding and a low blow. Dib showed his elusiveness by making Lacierva miss on numerous occasions, and Dib's evasiveness almost sent Lacierva hurling through the ropes as he charged at Dib.

In the third round, Lacierva's roughhouse tactics continued and the referee saw fit to speak to both fighters, as the fight threatened to get out of control, with continued holding and fighting after the referee had called for a break. Lacierva was warned again not long after for continued holding, as Dib continued to be elusive and was not keen to stand and trade with the Mexican. Lacierva was trying to manhandle Dib, and use his physical advantage; however, the referee's patience was quickly fading, with both fighters being warned again at the end of the round.

The Fourth round saw Lacierva make his first significant contribution of the fight, after tagging Dib with a nice short hook that shook the Australian. Dib responded with a nice three punch combination, which he followed up with a nice uppercut to have him in control of the fight.

That control intensified late in the round when Lacierva was deducted a point for a punch to the back of the head. It was clear the referee's patience had finally run out.



The Fifth session saw Dib putting some nice combinations together with Lacierva still continuing to test the referee's patience. Lacierva was warned yet again for punching after the break, and then shortly after for a low blow. Lacierva finished the round in a flurry, landing a solid right hand in what was an even round.

The Sixth was Lacierva's best round of the fight, and the only one in which this reporter scored for the Mexican. Lacierva showed that he could match Dib, and also score well after finally putting the unsettling tactics of the first five rounds to bed. Dib was elusive again, yet did not commit to any real level of punches, and was happy to keep his distance.

Any momentum Lacierva hoped to build from the sixth round was dashed when Dib picked up the pace in the seventh. Both men exchanged punches well, but Dib managed to find his spots better and pinch the round. The script was similar in the eighth with Lacierva beginning to show significant damage under his right eye. Dib landed the best combination of the fight up until this point and shut down any run of momentum Lacierva hoped to build.

With only four rounds remaining in the fight and only an argument being made for Lacierva in one of the rounds, it was time for the Mexican to get desperate. Lacierva showed signs of this by coming out and trying to load up with some big shots. Lacierva did begin to make some headway before he was hit with a low blow from Dib, which meant the referee gave Lacierva some time to recover.

Lacierva waived the referee away, and chose to fight on; only for both fighters heads to come together and it saw Lacierva come away with a nasty cut over his left eye, which the referee ruled to be due to an accidental head clash. Lacierva was clearly despondent following the cut, showing his frustration to the crowd and spitting out his mouthpiece.

The final three rounds were all won by Billy Dib, as the Australian began to put his punches together and land combinations as the Mexican tired.

The 11th saw Dib land his best punch of the fight, after he caught Lacierva with a solid right hand in the corner that had Lacierva rocking. To his credit Lacierva held on but he could not get close to Dib, due to his superior speed and elusiveness.

Lacierva came out in the 12th needing a knockout, yet Dib, who was comfortably ahead on the cards, was surprisingly looking for the stoppage. Dib came out throwing a flurry of punches and managed to put together some nice combination before deciding it was best to get on his bike and protect his lead.
The final bell sounded and at the end of 12 rounds the judge's cards read- 119-109, 118-109 and 115-112, all in favour of Billy "The Kid" Dib, who was crowned new IBF Featherweight Champion, in his home town of Sydney, Australia.

The fight of the night was the Semi-Main Event which saw Zac Awad defeat Junior Talipeau in a 12 round split decision for the IBF Pan-Pacific Super Middleweight Championship. The fight brought the crowd to its feet throughout with both men going toe to toe from bell to bell, with every punch thrown having seriously bad intentions.

Also on the card was Paul "Showtime" Fleming, fresh of his US debut, who scored an impressive second round TKO win over Quinton Donohue.

July 20, 2011