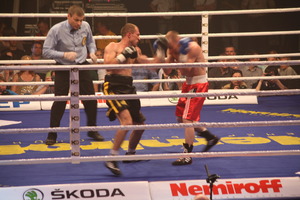 Fedchenko failed to impress

By Dmytro Mossienko at ringside: Klitschko brother's promotional powerhouse K2 staged another exciting boxing card in Kiev, Ukraine's capital on Saturday (28 May), during the Kiev day celebration.

It's turned out though, that the main event failed to meet the public's expectations. The top liner Max Bursak vs Argentinean Carlos Adan Jerez in a WBO intercontinental middleweight title clash was one of those one's, where nobody present in Kiev's Kobzov concert hall questioned whether Max was going to win. The only question was whether and when he was going to stop slick the Argentinean with a rock solid chin and fast hands. Bursak never managed to. He won 120:106 on all three judges cards and apologized to the public via the microphone for failing to stop the "guy , who did not come here to fight".

Sitting in the front row WBC heavyweight champion Vitali Klitschko was obviously bored with the fight, and K2 manager Alex Krasyuk was having a hard time. When the lopsided fight was over, Vitali cheered Max for his relentless, though unsuccessful effort. At some episodes of the fight Vitali, sitting with him his stable fighters the Baisangurov brothers seemed to be more excited watching gorgeous Ukrainian ring card girls.

Vitali, the K2 boss arrived a couple of fights prior to the main event. He did not realize, that the best fight of the night had already been over by the time of his arrival.

As famous Ukrainian veteran coach Mykhail Zavyalov put it, "Fedchenko-Ayvazidi fight was the best one tonight!"

Junior welterweight Sergey "Professor" Fedchenko from Kharkov in an eight round non-title thriller won a majority decision against previously unbeaten Artem Ayvazidi from Nemiroff (Vinnytsia region) in Central Ukraine. Fedchenko started the fight carefully and so did Aivazidi. However, in round two Aivazidi moved up a gear and took the fight to his more experienced opponent.

Fedchenko had crisp left jab ready for the bully, but Ayvazidi sustained counter-fire and entered the close quarters with barrages of punches. Fedchenko used his experience and skill, changed angles and never missed an opportunity to apply body punches in order to discourage his opponent. However, until the very last gong it was a extremely competitive fight, where both warriors fought for the initiative, showing good fighting spirit. It was probably, the accuracy of Fedchenko's counter punches, that impressed the judges most.

Even when both fighters were extremely tired in the second half of eighth round, it was Fedchenko, who demonstrated intelligent, though brutal boxing. The fading Ayvazidi rushed in for the victory with a final "Hurray!", but was disarmed by Fedchenko's skillful foot work and accurate left jab stoppers. Both fighters gave their all. When Fedchenko won a majority decision, some of Ayvazidi's fans booed it, but even they knew that Fedchenko probably fought one of his career best fights with Artem, who stepped in the ring with rock solid determination to win. It was Fedchenko, who proved to be smarter in their never stopping struggle to seize the ring general ship in their eight rounds clash.



By the time when Klitschko arrived, it was the time for yet another potentially exciting fight. Ukraine's light heavy Vyatscheslav Uzelkov was making 2nd tune up after last July's lackluster performance in USA against Las Vegas based Kazakh Beibut Shumenov for the WBA light heavyweight championship belt. Uzelkov's opponent this night was Russian journeyman Ivan Maslov from St Petersburg. Uzelkov came in the ring with massive class advantage, but looked sleepy and ate quite a bulk of leather from seemingly clumsy, but often efficient in his awkward style game Russian. Maslov connected with leading right jabs, with solid body shots, had Uzelkov caught on the ropes! Maslov was truly giving Uzelkov a very hard time!! Eventually, the fight looked even. It was Uzelkov's flush left hook that shuttered Maslov in the beginning of Round 6. Fading contender had his killing instinct ready and rushed at the Russian opponent with series of punches. Maslkov never looked hurt, but the judge seemed to be very sympathetic to Uzelkov and waved the fight off as a TKO.

In yet another undercard fight, Alex Chervyak from Kirovograd ko'd in round one of their fight his nemesis Vitaly Rusal, whom he lost a unanimous decision in December last year. Vitaly Klitschko looked utterly frustrated, as K2 shad pent several years investing in Rusal.

The international boxing card staged by the K2 proved to be exciting and full of unexpected twists of fortunes. Vitali and his boxers thanked fans for coming and watching on the national Inter TV broadcast.


May 28, 2011