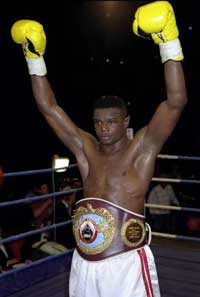 Three people, including a small baby, were killed at the weekend when their car collided with a vehicle been driven by WBO middleweight champion Harry Simon, who suffered a broken arm and two broken legs in the head-on smash.

The terrible collision occurred between Swakopmund and Walvis Bay in the fighter's native Namibia, Africa. A Namibian Police spokesman said the accident occurred when Simon allegedly tried to overtake two cars at once and ran into the oncoming car.

A 22-month-old baby died instantly while a woman and a 35-year-old man, Fredrick Dewinder, died later in hospital, reports Namibian press agency Nampa.

Last weekend's tragedy is not the first fatal car crash Simon has been involved in. Last year Siegfied Kessler and his wife, Elke, were burnt beyond recognition after Simon's Mercedes collided with their car. The Kessler family have filed charges and the police opened a murder docket on Simon, which has yet to be heard in court.

In any case, it will be a long time before the WBO champion, who is promoted by Englishman Frank Warren, is in the ring again.

In fact, he career could well be over.