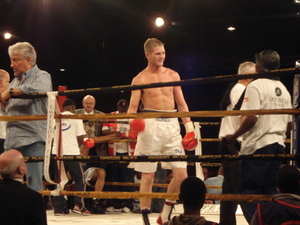 Oosthuizen fought to a draw against Chilembe

By Lwazi Ndzobongo at ringside: Isaac Chilembe retained his IBO super middleweight title by fighting to a draw with Tommy Oosthuizen here at Emperors Palace on Saturday night.

The judges scores read 115 – 113 (Chilembe), 113 – 115(Oosthuizen) and 114 – 114.

The draw was probably a fair result as neither fighter was able to dominate the other throughout the fight and Oosthuizen never did enough to take the title away from the Champion. If anything Chilembe fought the smarter fight by pressurising Oosthuizen and not allowing him to box from the outside. Oosthuizen, for his part, concentrated too much on landing the killer punch and neglected his corners instruction to calm down and box Chilembe.

The fight billed 'Declaration of war' started slowly as the only significant punch to land in the 1st round was a trademark Oosthuizen left hand and that was right at the bell. The 2nd round started faster as Chilembe came forward pressuring Oosthuizen who seemed more keen to land a haymaker than box his shorter, slower and maybe less skilled opponent. Chilembe was successful, landing some big punches whilst swarming Oosthuizen and making him miss.



The slugfest continued between rounds 3 to 5 as both men took turns being the aggressor and hence controlling the action. Chilembe looked good when he was pressurizing Oosthuizen and wasn't giving him room to box while Oosthuizen was good when he allowed himself some room and outboxed Chilembe.

In rounds six and seven, Oosthuizen was in control causing Chilembe a bloody nose and cut above the left eye. Oosthuizen was boxing at a distance and landing the left hand too often to such an extent that Chilembe spit out his mouth guard to get a breather. Oosthuizen seemed to be gaining the upper hand and had the largely pro Oosthuizen crowd chanting his name, 'Tommy, Tommy'.

From the 8th to the final round, war was declared as both men at times stood toe to toe trading punches much to the crowds amusement. It was difficult to pick an outright winner after each round, even though Oosthuizen was always sure to finish the last ten seconds stronger. Neither men was ever in any real trouble to be knocked out and the hard hitting Oosthuizen should feel this was an opportunity wasted as there is no doubt he has the better skills. Credit to Chilembe for not allowing Oosthuizen to use those skills as well as we all know he can. Great fight and given how young these men are, they are bound to run into each other in the future and we hope they give us another war!

Chilembe now moves to 15-1-1 (8) and Oosthuizen moves to 13-0-1 (10)

Other results:
Flo Simba bt Mauro Adrian Ordiales, TKO 5 (Heavyweight)
Daniel Alberto Dorrego bt Jason Bedeman, TKO 4 (Lightweight)
Bongani Dlamini bt Joseph Modise, TKO 1 (Lightweight)
Sipho Taliwe bt Vinvin Rufino, pts 12 (WBC International super-featherweight title)

******************************************************************************************

Thabiso Mchunu lost his fight against the scale but managed to win it inside the ring here at the Olive Convention Centre in Durban on Friday. Mchunu weighed in at 89kg's, 3.85kgs above the junior heavyweight limit. Mchunu overwhelmed Bruwer by not giving him any room to use his reach advantage. Bruwer suffered a cut to the eye in the fifth and was never himself as Mchunu battered and bruised him with every punch. All three judges scored it 119 – 107 for Mchunu, who moves to 9-0 (8). Bruwer drops to 22-2-1 (18) but will at least be happy to know that he can still win the title when he fights for it next time.

November 6, 2010