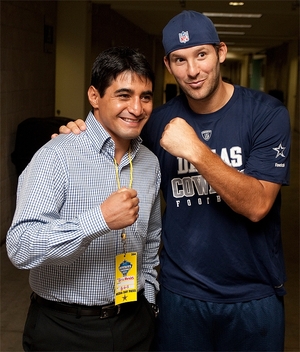 Morales with Dallas Cowboys' Tony Romo

Erik "El Terrible" Morales believes he can re-find the spark that made him a Mexican boxing legend when he takes on tough Argentine puncher Lucas Matthysse next month.

Morales, 34, faces Matthysse for the vacant WBC light-welterweight strap on the undercard of Ortiz-Mayweather at the MGM Grand in Las Vegas on September 17 and feels it will be his best display for years.

"When we were first talking about this fight, we were talking about an opponent who wasn't easy, but not as difficult as Lucas Matthysse," Morales said.

"I have seen a lot of comments on Facebook…people saying I am crazy, and I want to confirm that I am crazy. I am crazy about what I do.

"This is a sport that I participate in with a lot of love and a lot of heart. People question me, but I know that I love to fight and I want to fight. I will be ready September 17. The Mexicans can have a great party and celebrate when I am victorious.

"In April I had a tough fight against Marcos Maidana. A lot of reporters doubted me, but I made it very clear that I am back and can still accomplish great things.

"Everyone can see how I have advanced in the last year. Little by little I am back at the level at which I expected to be. I am very happy with where I am and where I need to be for this fight."

Victory on fight night will mean that Morales will have won world titles in four different weight classifications.