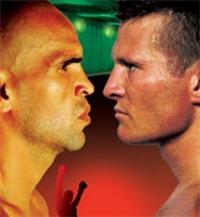 Mundine vs. Green 2?

By Paul Upham: Former WBA light heavyweight boxing world champion Danny Green will hold a press conference on Tuesday morning February 10 at 9:00am outdoors at the Subiaco Oval in Perth. The "Green Machine" retired as WBA champion unexpectedly in April 2008 and will reportedly make a major career announcement to the media.

Green 25-3 (22), who turns 36 on March 9, is expected to confirm his comeback for an Australian super fight rematch with arch-rival Anthony "The Man" Mundine later in 2009.

The two clashed in May 2006 outdoors at the Sydney Football Stadium in front of a live crowd of over 30,000 people. Mundine won a comfortable points decision at super middleweight. Green then moved up in weight and won the WBA 175lbs world title from Stipe Drews in December 2007.