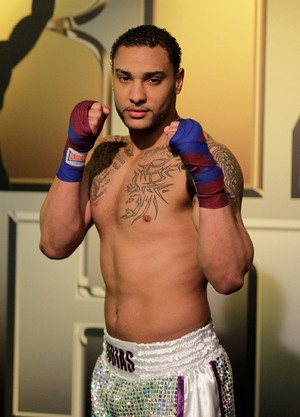 Tobias Webb Ready For Prizefighter debut

Enzo Maccarinelli says his nephew Tobias Webb can stun home favourite Robin Reid in Prizefighter Super Middleweights II at Liverpool Olympia on March 23 – and he's putting his money where his mouth is.

Maccarinelli will be ringside on Wednesday night to support his 22 year-old unbeaten nephew Tobias as he steps into the ring against Reid in the third quarter-final of the night. If Webb can make the 40 year-old his fifth win of his short professional career, then he will face the winner of Carl Dilks and Jahmaine Smyle in the semi-finals.

The Swansea fighter, who beat the first Prizefighter Super-Middleweights champion Patrick Mendy on his debut in March 2009, has a fine amateur pedigree as a ten-time Welsh ABA champion. Webb names his uncle and former WBO Cruiserweight king as his mentor, and Enzo believes that Sky Sports viewers are in for a treat when they see Webb in action, and that his amateur skills could see him prevail.

"I have had a very large bet on Tobias so I'm very confident that he'll win!" said Maccarinelli. "I wouldn't want him to face Carl in the semis really as I'm good friends with Carl and if they have to meet it'd be better in the final, but that's the way the draw has gone.

"I spoke to Tobias right after the draw – he was working away in the gym and he was chuffed to get Robin. To be honest, he didn't really care who he had to fight but getting Robin in his hometown and in his big night comeback will be a great test for him.

"He's still used to the three and four rounds from his amateur days – he's young, full of confidence and very hungry. No-one has seen the best of Tobias yet, but I've seen him spar some top-level fighters who have been really impressed with him and he sparred with Luis Garcia not so long ago and by all accounts he more than held his own."

Maccarinelli has followed Webb's progress at close quarters since he began training in his dad Mario's gym in Swansea. Although 'Big Mac' still has ambitions in the ring himself he has began taking steps to mentoring young fighters – but he said he cannot be in Webb's corner in Liverpool.

"Tobias is the only one I could never do a corner for, even when he was an amateur I couldn't do it," said Maccarinelli. "I get more nervous for his fights than I ever got for my own, even though I know how good he is. I've watched Tobias grow up and progress as a young kid, I've always seen the talent in him and to watch him in Liverpool will be a proud moment."

Tickets for Prizefighter Super Middleweights II at Liverpool Olympia on Wednesday 23 March are available from Matchroom Sport priced £30 unreserved – to buy call Matchroom Sport on 01277 359900.