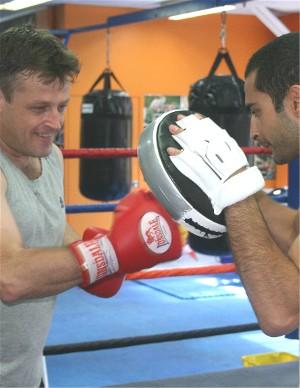 Vic Darchinyan works Kevin Barr on the pads

By Paul Upham: When power punching Vic "Raging Bull" Darchinyan battles Cristian Mijares on Saturday night at the Home Depot Center in Carson, California, USA one of his supporters watching back in Australia will have a better understanding of what the Mexican WBC/WBA world champion is up against. Sydney boxing fan Kevin Barr was the lucky winner of a television contest to meet Darchinyan in person.

"If I was ever going to win a competition to meet a boxer," explained Barr, "it would have had to be with Vic Darchinyan. I never entered a competition like this before. When they rang me and told me I had won, I couldn't believe it. I was over the moon."

Originally from Glasgow, Scotland, Barr moved to Sydney, Australia twenty years ago, but still retains his thick Scottish accent.

"I have always been a big fan of Vic," he said. "I remember seeing him fight at the 2000 Olympic Games here in Sydney and I have always been a big boxing fan."

Main Event Television, the pay-per-view network in Australia, ran a contest in the lead-up to Darchinyan's last win over Dimitri Kirilov in August.

As well as the opportunity to meet Darchinyan and train with him in his Marrickville gymnasium, Barr also won a new XBox 360 game, the new boxing video game Don King Presents Prizefighter, featuring the "Raging Bull" and signed Darchinyan posters and clothing.

The prize was made possible by Main Event Television, 2K Games, Vic Darchinyan and his manager Elias Nasser.

With his son Callum and wife Helen, Barr met Darchinyan on October 3 at the "Raging Bull" Gymnasium.

"It's brilliant to meet Vic in person," said Barr. "Just fantastic."

Darchinyan appreciated the visit, made one week before he flew to the USA for his history making super flyweight fight with Mijares.

"Kevin is one of my great fans," said Darchinyan. "It makes me happy knowing that he is supporting me, along with many others. When I win world titles, it is not just for me, my family and my team, my fans enjoy the success with me."

After boxing a few rounds on the Prizefighter video game, Darchinyan put Barr through his paces on the hand pads and the heavy bag.

After sweating it out in the ring, Barr struggled with the floor to ceiling ball, "someone keeps moving it on me," he laughed.

Darchinyan jumped in to demonstrate how it is done and hit the ball perfectly again and again with searing power.

"He makes it look very easy," said a smiling Barr, shaking his head. "For me, it's like someone put legs on it. That's why I admire him so much. That he can punch like that hard for twelve rounds. Three one minute rounds might be OK for me. But for him, it is non stop. He punches so hard for a little guy. Vic throws his whole body into it."

When IBF world champion Darchinyan faces Mijares this Saturday night November 1, televised on Showtime Championship Boxing in the USA and on Main Event Television in Australia, Barr already knows what he is going to see.

"Vic is not a pretty boxer," observed Barr. "He is an honest boxer. He comes to fight. Absolutely, he always gives an honest stand up fight. He gives 100% every time. Vic gives everything he has in the ring. When you buy his fight, you know what you are going to get."


Paul Upham
Content Editor