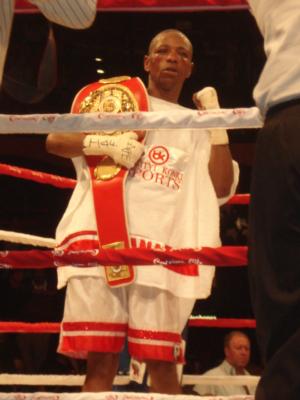 Mzonke Fana

By Lwazi Ndzobongo: Mzonke Fana captured the vacant IBF Jnr Lightweight title by outpointing Cassius Baloyi over 12 one sided rounds at Carnival City on Wednesday night. The scores were 119-109, 118-110 twice.

Fana came out fast this time around, making up for their previous encounter which he narrowly lost by letting Baloyi dominate him early on. Fana outpunched and outmuscled Baloyi reducing the six time champion to look more than the 35 years of age he is. At the end of the sixth Baloyi walk to Fana's corner, that's how badly he was being dominated. Fana was landing punches in bunches and simply never gave Baloyi any space to throw his long jab.

Baloyi landed the harder punches throughout but was never really in the fight from very early on. His inability to take advantage of the Fana's poor defence was cause for concern. This writer was pained by the ease in which Fana practically beat up, taunted and walked through the six time champ. Baloyi has been a good ambassador for South African boxing and it was sad to see The Hitman go out the way he did last night.

Fana improves to 30-4 while Baloyi drops to 37-5-1, and his boxing days might be numbered judging by this performance.



Katsunari Takayama from Osaka Japan claimed the number 1 IBF mini flyweight position by stopping Tshepo Lefele inside six rounds. The referee came to Lefele's rescue at 51 sec into the round after Takayama hurt Lefele with a barrage of unanswered punches.

Lefele had the better start, jabbing and out landing his Japanese opponent in the first three rounds. Not to be outdone, Takayama took control of the fight from the fourth onwards, at some point he came out running towards Lefele at the beginning of the round showing his eagerness and intent.

It was a good win for Takayama (24-4) even though it won't have sent scary thoughts to his next opponent Nkosinathi Joyi (IBF Mini Flyweight champ), who was watching the action from ringside.



Takalani Ndlovu outpointed Jeffrey Mathebula on his way to winning an IBF Jnr Featherweight Eliminator. The judges scored it 118-109, 114-113 twice. Ndlovu looked ordinary in his win and many ringside observer booed the judges scoring as it seemed Mathebula had done enough to get the win.

The action started at a snail's pace with Mathebula boxing from the outside, using his reach and jab to control a rather subdued Ndlovu who looked very tight and tense. The action did finally pick up in round 4 with both fighters exchanging blows in the middle of the ring. Rounds 5 through to 10 had Ndlovu having bursts of attacks but generally Mathebula controlled the action boxing nice from behind his jab. Ndlovu was landing the harder punches but Mathebula was throwing combinations and controlled the action. In the last round the referee seemed harsh in deducting a point from Mathebula for leading with his head and when you look at the scorecards that is a point that Mathebula needed to win.

It took a while for the scorecards to be tallied and this writer believes Mathebula was unlucky not to have been given the decision or at least a draw, the score of 118-109 from judge Simon Xamlashe was totally out of this world, he must have been watching a different fight.

Ndlovu improves to 31-6 and Mathebula drops to 23-3-2.



In the fight of the evening, Moruti Mthalane successfully defended his IBF Flyweight title against Zolani Tete, stopping his challenger in 2:27 seconds of the fifth round.

It was a very slow start for Mthalane, who seemed to be unable to figure out the ranging style of the younger Tete. For the first 3 rounds Tete boxed beautifully showing immense ability and skill, he bloodied Mthalane's nose in the second. Mthalane was looking for a single big shot and finally found it at the end of the third round and wobbled Tete. In the fourth Mthalane pressured his less experienced challenger and despite not catching up to him, one got the feeling that when he did, he would do grievous damage. It was in the fifth that the champions punches found their target, he dropped Tete twice, first with a left right combination and then a left hook. With Tete in trouble Mthalane's predatory instincts kicked in and he cornered his man and battered him against the ropes until the referee stopped the fight.

A very good win for Mthalane who appealed to his people for more action as this was his first fight since November last year. He improves to 26-2, while Tete losses his zero and drops to 13-1. It was a good showing by Tete and he showed he is definitely one for the future if moulded correctly.



A little squabble between Nick Du Randt (Mthalane's Trainer) and Vuyani Bungu (Tete's Trainer) almost put a damp squid on an otherwise successful evening. Du Randt upon his charge winning ran across the ring to show his joy, this wasn't received well by Bungu and the two men had to be restrained and separated. This writer has Bungu a 11-10 favourite if that fight ever materialises.



All in all a good nights boxing, despite the poor attendance!