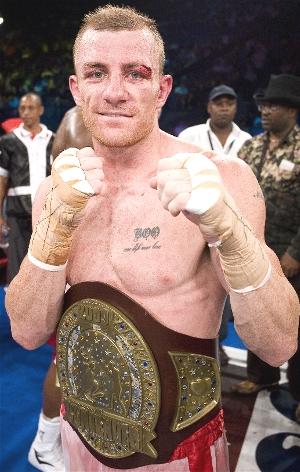 Garth Wood

The Contender Australia winner Garth "From The Hood" Wood and team will be heading off to a secret location this week in preparation for his 8 December all-Australian boxing grudge match at middleweight with Anthony "The Man" Mundine.

32 year-old Wood 9-1-1 (5) commenced training for the contest earlier this month in Sydney, but will spend the final six weeks in preparation at a confined training camp organized by manager Mike Karigiannis and trainer Billy Hussein.

"Garth has proved that he works well in a training camp environment," said Billy Hussein. "He showed that in the Contender house. He thrived, and for this fight we need him to have a focused preparation in the right environment. This fight means so much to him and so we are leaving nothing to chance."

Leaving nothing to chance means securing the premium sparring available. A small group of fighters the venerable Hussein has handpicked to accordingly prepare his charge for combat.

"We have Damien Hooper joining us, the Youth Olympics Middleweight Gold Medallist who is our best amateur technician and possesses that indigenous speed and sharpness like Mundine," explained Hussein. "Cameron Hammond, the Australia light middleweight rep and another indigenous boy with fast hands and smooth skills. He's a top young fighter. Trent Broadhurst, one of our fastest rising fighters who is also a top technician and very sharp. And Andy Green will be in camp, he's coming on really fast. He'll be there to vary things up and is a great training partner for Garth, very good for strength work."

Wood, the former rugby league football professional, as was Mundine, will also be working with WBA No. 12 super middleweight Les Sherrington.

"We have hired the best to shut down Mundine and cover anything he may present in that ring," said Hussein.

Also joining Wood in camp will be long-time friend and highly-regarded strength and conditioning trainer Hassan Chalich, and stablemate, unbeaten featherweight prospect Paul "Showtime" Fleming. Recently crowned WBO world lightweight female champion Erin McGowan will also be showing her support for the 32-year-old, as will current Gold Coast Blaze captain James Harvey.

The more the merrier it seems. As Hussein observed, "We have a very tight stable and all our guys support one another. Everyone in the camp knows how much this opportunity means to Garth."

Hussein is confident the sacrifices made in camp will produce Wood's second shock (The first was winning The Contender) within the space of 12 months.

"Garth will be more dedicated and focused than ever," he said, "and I know with the work he'll be getting, and how awkward and physically strong he is, that he can produce the upset and be the first Australian to defeat Anthony Mundine."