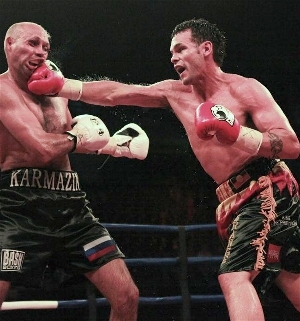 Geale rocks Karmazin: James Robertson

By Sean Castle and Jason Archbold at ringside: Daniel "The Real Deal" Geale demonstrated himself to be just that by stopping Russian Roman Karmazin late in the 12th round to set up a title shot against IBF middleweight boxing world champion Sebastian Sylvester in Germany early in 2011.

Geale proved too much for the ageing former world champion at the State Sports Centre in Homebush, Sydney and was well ahead on the judges' scorecards when American referee Pat Russell ended the bout 30 seconds before the final bell.

Geale (24-1) stated in the lead up to the fight that he wanted to restore the sport of boxing to its rightful place after some of the farcical fights of the recent past and this would happen by only fighting against the best in the world and this proved to be so against the top –ranked Russian.

Karmazin, 37, the victim of a dubious drawn decision in a title bout against Sylvester earlier in the year proved to be every bit the challenge that the Grange Old School Boxing team expected. Well-conditioned and durable, the Russian did everything in his power to turn the fight his way as he knows that the clock is surely ticking on his career. Employing a chopping left hand to attack the Australian's body, Karmazin was using every trick in his book to break down the Former IBO world champion Geale.

But it became obvious as the fight progressed that Geale was a man on a mission and it was clear that we were witnessing the rise of a fighter on the up and seeing the demise of another on the down. Credit must go to Graham Shaw and the Grange team for the superb preparation and development of their fighter. One criticism of Geale in the past has been an inability to finish off fighters when he is on top. With superior fitness and footwork, Geale was able to get out of the way off most dangerous situations and absorb any punishment that the counter-punching Karmazin (40-4-2) attempted to dish out. Showing great patience and maturity, Geale broke down his opponent and didn't hesitate in finishing off the job when the opportunity presented itself late in the final round.

The card was packed with quality from the beginning to end. The Grange Old School Boxing promotional team have consistently proven themselves to be superb matchmakers and so it was again on "Judgement Day". The big names of Australian boxing, including undisputed super flyweight world champion Vic Darchinyan, the world-class Sam Soliman and Kali Meehan, were out in force to see Australian boxing shine in front of a world-wide audience with the card being beamed live throughout Europe and North America.

In the ultimate grudge match the veteran Shannan Taylor took on the emerging Junior Talipeau in a tough fight that went to the judges' cards. Taylor looked well-conditioned and eager to use his vast international experience against his younger opponent. However it was obvious from the opening bell that Talipeau was not daunted and had benefited from the time he has spent training one-to-one with triple world champion and Hall of Famer Jeff Fenech.

Talipeau was consistently quicker on his feet than the 38 year old Bulli Blaster who was continually beaten to the punch and had to fight most of the fight on the back foot in an uncustomary counter-punching role. The fight had plenty of feeling both inside and outside of the ring and exploded in the third round when Taylor went unpunished for what looked like a deliberate head butt. Trainer Jeff Fenech was visibly annoyed that the referee missed it, sparking a brutal response from Talipeau who upped the ante with some big body shots that clearly slowed up the two-time former WBF champion. Taylor, stung by the onslaught responded with a savage low-blow that resulted in referee Les Fear deducting one-point and a warning of disqualification if it happened again.

The judges deservedly scored it 78-75, 80-73 and 79-76 for Talipeau who must now move onto other boxers on the rise such as Michael Bolling and not veterans like Victor Oganov who has seen better days.

In a battle of the tattooed warriors, "Deadly" Rob Medley was clinical in defeating durable American Jason Le Houllier (25-1-5) in an international Junior Middleweight contest that went to the judges' cards. Medley was methodical in sticking to his pre-fight game plan and systemically punished his crafty American opponent throughout the tough 8 rounds. Medley was effective in controlling the centre of the ring and took the fight up from the front foot, forcing Le Houllier to fight mostly in reverse gear. There was one scare for Medley in the 6th when Medley went to the ground from a slip but it was clear that Le Houllier had hurt the Aussie with a crisp headshot in the lead up. Medley showed the toughness of his chin and soon resumed hostilities by again punishing his opponent with some superb combinations.

Former WBA middleweight title contender Jamie Pittman got his career back on track with a convincing point's decision over the tough Samoan Togasilma Letoa. Pittman proved that under his new training regime at The Grange that he has the ability to again rise up the world rankings and match it with the best in the world. Trainer Graham Shaw and his team have Pittman looking a lot fitter and the fighter responded with some great body shots as he accumulated some much needed rounds in the ring.

Earlier former world water skiing champion Lauren Eagle defeated New Zealander Christina Tai in a contest that went the full six rounds. Trained by former IBF super lightweight world champion Lovemore Ndou and current IBO welterweight world title holder, Eagle looked far more composed than in her first fight earlier in the year and was able to use her superior height and speed to constantly punish the durable and experienced New Zealander.

In the first bout of the day Ranee Ganoy won a second round TKO over the experienced Guilermo Mosquera. Ganoy was far from happy when his opponent failed to answer the bell to start the third round with a suspected dislocated shoulder.


Photo By James Robertson – Smooth Rumble Photography