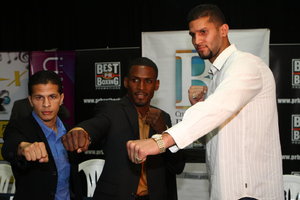 Unbeatens Jose "Chelo" Gonzalez, McJoe Arroyo and Carlos Negron will headline the the 6th edition of the series "A Puño Limpio", this Friday, September 2, at the coliseo Ruben Rodriguez in Bayamon, in a PR Best Boxing Promtions (PRBBP) in association with Top Rank Inc., to be televised live on WAPA America, this time from 10:00 p.m. to 12:00 a.m.

González (16-0, 12 KOs) will defend his WBO Latino Lightweight title in a 10 round fight against Eddie Soto (12-2, 4 KOs), from Rhode Island. The champion is ranked #8 in the WBO lightweight division.

"I'm ready for mi rival. I knew him here, but I'm well trained for this fight, to keep my title and to continue to the world champoionship", Gonzalez said.

Soto said that "I had great battles in the United States, against good fighters and I just want Gonzalez to a make a big fight".

The co-feature presents Negron (13-0, 9 KOs) in his fourth fight as a heavyweight against Colombian Epifanio Mendoza (31-12-1, 27 KOs), in a six round bout.

"I like to fight boxers like Mendoza, veterans, to gain experience in my career. It's going to be a great fight", Negron said.





Otherwise, Mendoza said that "this is going to be your hardest fight Carlos. You are my friend, I respect you, but this Friday we are going to battle in the ring".

Meanwhile, Arroyo (7-0, 4 KOs) is back to the ring in a six round 115lb bout, versus Jaime Gutierrez (3-5), who is traveling to Puerto Rico.

"I'm in great shape, and ready to show my skills again in the ring", Arroyo said.

Other seven fights will complete the card. This "A Puño Limpio" will be televised from 10:00 p.m. to 12:00 a.m. due to channel issues.

Tickets are availables at Ticketcenter, www.tcpr.com, 1 (787) 792-5000.

August 30, 2011