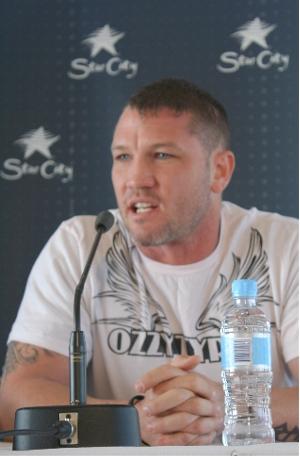 Paul Briggs

By Paul Upham: The Western Australian Professional Combat Sports Commission announced on Wednesday 3 November 2010 that former WBC light heavyweight boxing world title challenger Paul Briggs would be fined $75,000 of his $200,000 purse after his controversial 29 second loss to Danny Green in Perth on 21 July.

Commission chairman Simon Watters told the media in Perth, "Mr Briggs knew due to his condition with his nervous system and his physical ability to mount a credible defence, he wasn't a worthy and genuine competitor."

The bout had been moved to Perth only two weeks after the NSW Combat Sports Authority had declined Briggs a licence to fight.

37 year-old Green 30-3 (27) landed a right hand to the body and then fired a strong stiff jab which from initial viewing appeared to fly over the top of Briggs' head.

34 year-old Briggs 26-4 (18) fell forward onto the canvas and onto his knees. As the American referee Pat Russell counted, it appeared that Briggs, now on his haunches, was ready to stand up, but he then overbalanced and fell forward again and the fight was stopped.

Multiple slow motion television replays of Green's left jab showed that the punch landed high on the forehead of Briggs.

IBO cruiserweight world champion Danny Green, who was also the promoter of the match, was cleared of any involvement in what was labelled by the Commission as a "sham" match.

The Commission declared that Briggs' trainer Billy Hussein should have known that his boxer was in no condition to fight and stated that any licence application in Western Australia from the trainer would be looked at extremely closely.

Both Briggs and Hussein declared their innocence and stated they would fight the ruling in court if necessary.

"They've exposed themselves like there's no tomorrow," Briggs told the ABC. "They've got no idea, you know, and we'll put the wheels in motion."


Paul Upham
Content Editor