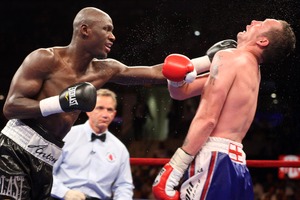 pic Tom Casino

By Adam Santarossa: The lure of the Danny Green v Antonio Tarver, IBO Cruiserweight Title fight, is that you simply don't know what you are going to get.

Antonio Tarver could well be another Roy Jones.

A man who came to Australia, a shell of a fighter he once was, with plenty of hype and all the bells and whistles, only to be destroyed by the hungrier Danny Green in 180 seconds.

Tarver is a man who has fought only twice since 2008 and has never fought as a Cruiserweight.

In his most recent fight, in October of last year, against the unimpressive Nagy Aguilera (16-6-0) Tarver looked sluggish and uncomfortable fighting at Heavyweight, despite winning a 10 round decision.

His two previous fights were consecutive losses to Chad Dawson, and given the ease at which Dawson won each fight on the scorecards, it gave many critics the ammunition to consider Tarver no longer "elite".

Tarver comes to Australia, almost three years after the fact to prove those critics wrong.

Some have questioned the reason a man, crowned the best Light-Heavyweight of the past decade who has been largely inactive and seen more action as a HBO commentator than in the ring in the past few years, has for stepping back in the oldest proving ground in the world.

It's clear like Roy Jones; the name "Tarver" is no longer considered "Money" back home in the States.

Tarver says he is here for the Cruiserweight title, a title he has never held, and a line borrowed from Green's previous victim, Roy Jones.
But the mind does wonder.

Tarver will command an alleged guaranteed fee of $1.3 million dollars, for taking this fight.

Its $1.3 million reasons why you just don't know what to expect.

Is this one final pay day or does Tarver mean business.
The fight has been met with some pessimism following the last big name boxer to come to Australian shores.

Roy Jones collected his $3 million guaranteed money upfront, and we all saw what happened in that fight.



The problem with guaranteed money is simple. Why get beat on for 12 rounds, when you can make the same money fighting one. When the going gets tough and the fight becomes a war, is the fight that is needed to win such a battle still existent in Tarver.

This fight was meant to happen two years ago, but Tarver wouldn't put pen to paper.

The big question is what has changed in those two years.
What's driving Tarver now?

But questioning a man's heart is a dangerous business in the fight game.
There is no reminder needed that Tarver was the first man to knock out Roy Jones, who then in his prime was considered untouchable.

Tarver not only achieved that, but in doing so unified the Light-Heavyweight division.

You also need no reminder of Tarver- "The Olympian", Tarver- "The Magic Man", and the man that fought his way out of poverty to an eventual place in the Hall of Fame.

If it's his desire to once again become a world champion and reign in a division he has never before, then we may yet see a war between "The Green Machine" and "The Magic Man".

But if it is like Jones, a sight of easy money and a sunny holiday, then who knows?

Tarver is certainly dangerous; a man with his record and legacy doesn't need to be talked up too much.

He is a boxer, who has the silky skills but who can also flick the switch.
His biggest asset against Green is that he is a southpaw.

Danny Green has previously shown a weakness, like many fighters to a Southpaw.

Markus Beyer was one who completely outboxed Danny Green in their second encounter.

But in saying that, the Danny Green we see today is very different from the Danny Green of years past.

Once a come forward fighter with a ton of heart, Green showed in his past fight against the then undefeated, BJ Flores, that he is a smarter fighter, by not engaging with the bigger man, by executing a superb game plan of being elusive and fighting at a distance.

Green won comfortably on all cards, and opened the eyes of many.
The talk emanating from the Tarver camp is that Green is simply a come forward fighter and fought a "primitive style".

These are words that I'm sure will be music to the Green camp's ears.
Danny Green has just looked better and better with age.

But Green also brings some intriguing questions to the table.
Just how much of an effect has surgery earlier this year to remove his appendix had on the 39 year old.

Just what effect has the surgery and the loss of 10kg, in the process had on Green's body?
Could this be the final time, we see Green in the ring?

At today's final press conference, it was clear the fight had an extra feel.
Tarver's words had finally gotten Green to respond.

"The American's have sometimes been referred to as 'septic tanks' and the reason for that is that nothing but crap comes from their mouths", Green boomed.

Cleary aggrieved with the Tarver camp's talk of Green using illegal hand wraps in his fight with Jones.

It's an issue, that was shown to have no foundation, and if anything an orchestrated move by Jones, to retain his jeopardised fight with Bernard Hopkins.

It's an issue that clearly has infuriated Green. The repercussions of which will only be seen on fight night.

Tarver was as ever at his confident best, full of swagger and full of confidence.
"I feel they picked the wrong guy. They thought I was old, slow, 42 year old guy that would be showing up Wednesday night".

"But that's not the case. You've got a hungry, determined assassin".

It's an intriguing battle that raises many questions that until the two combatants meet can only leave everyone guessing.
PREDICTION- GREEN by late round stoppage

July 17, 2011