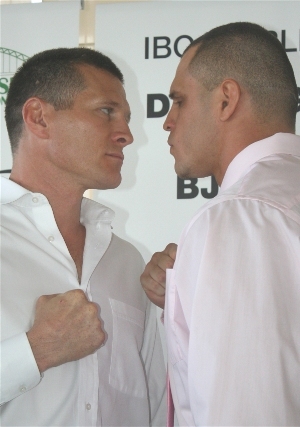 Green vs. Flores

By Paul Upham: Australian Danny Green surprisingly weighed in marginally heavier than American BJ Flores on Tuesday 16 November at the official pre-fight weigh-in for their twelve round boxing match at the Challenge Stadium in Perth.

The 37 year-old IBO cruiserweight title holder Green tipped the scales at 195lbs (88.6kg), while Flores weighed in at 194.5lbs (88.5kg).

31 year-old Flores 24-0-1 (15) from Las Vegas, who has a 3cm height and 20cm reach advantage over Green and who has previously competed at heavyweight reportedly received a financial bonus from promoter Green for weighing in two kilograms under the cruiserweight limit.

Green 30-3 (27) has previously competed at super middleweight and light heavyweight and despite his one round knockout win over Roy Jones Jr last December, is not considered to be physically a true cruiserweight.

"Flores is the biggest guy I've fought, but I know that if I hit him like I've been hitting my sparring partners recently, I'm gonna put him to sleep early", Green said. "He has been talking a good game, but I actually think he is a little bit scared and insecure.

Wearing his aviator sunglasses, undefeated Flores looked extremely confident prior to his first world title fight.

"I've waited a long, long time for a world title shot and come tomorrow night Danny Green is going to feel the wrath of my frustration" Flores said. "My training and preparation has been spot on and I'm in perfect mental and physical state to take Green's world title back home to Vegas".

Green believes that his fighting pressure and punching power will carry him to another victory.

"There is nowhere to hide in the ring and BJ is going to find that out the hard way tomorrow night," said Green.

The Green-Flores card will be televised live on Main Event and at participating Fox Sports Pub & Club Venues from 8:00pm AEDT on Wednesday 17 November 2010 on.


Wednesday 17 November 2010
Challenge Stadium, Mt Claremont, Western Australia, Australia
Danny Green vs. BJ Flores, cruiserweight – 12rds
Anthony McCracken vs. Shane Cameron, cruiserweight – 12rds
Steven Wills vs. Casey Gilmour, welterweight – 6rds
Mike Wilson vs. Jae Bryce, cruiserweight – 6rds
Matt Garlett vs. Quinton Donohue, super featherweight – 6rds
Sam Ah See vs. Mhelvin Hernandez, junior middleweight – 6rds
Waylon Law vs. Justin Medoro, lightweight – 4rds


Paul Upham
Content Editor