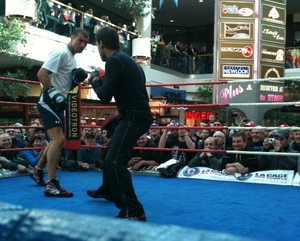 Lucian Bute Works out in Montreal

When Lucian Bute makes the seventh defence of his IBF super-middleweight title against Ireland's Brian Magee at the Bell Center in Montreal, Canada on Saturday night the undefeated 31 year-old will be hoping to put in another impressive performance in front of his loyal local following.

The Romanian born southpaw has been fortunate to have fought all but a handful of his 27 fights in Montreal, and while he massively appreciates the support he receives Bute dreams of defending his title in the US.

Speaking on a media conference call earlier this week Bute said: "I've been blessed with having a good following in Montreal and they are a big part of my success. They give me a lot of energy when I fight and it's important to have all the fans in my corner when I fight at the Bell Centre. But I'm a professional boxer and so far I haven't had the opportunity to fight anywhere else. I hope to get that chance and would like to fight in the United States. I would like to fight in Madison Square Garden or Las Vegas. I'm not just stuck in Montreal. I will fight anywhere."

There has been much talk about Bute, 27-0-(22), defending his title next against classy Danish boxer Mikkel Kessler and whilst Bute has professed an interest in facing the 'Great Dane', he is fully focused on defending his title against the dangerous Brian Magee.

"I feel like Brian Magee was the best opponent out there for me at this time and I'm taking this fight very seriously," insisted Bute.

"I'm really concentrated on Brian Magee. I really haven't had time to think of anyone else. I'm just focused on Saturday. After then, I will worry about whichever opponent is going to come after my performance on Saturday.



"I don't really have too much time to worry about my next opponents. Once I sign a contract, I concentrate on my opponent and prepare two months in advance. I plan to win every minute of every round. If the knockout comes, it comes. But that's not what I'm trying to do. I'm trying to win fights and so far I've been successful and that's what I will do again on Saturday night.

"Once I defend my title with Brian Magee then definitely I would like to fight Mikkel Kessler. Why not? Him or anyone else in the Super Six is who I'm going to fight next.

As one can fully understand Bute will not reveal his tactics for beating Magee but he did give an indication as to how he prepares for fights.

"In all my fights I have a strategy and I talk it over with my trainer," said Bute. "We study tapes of my opponents and I see openings and I see mistakes that they make. That's how I work on my strategy. During the fight I let my arms go and I let my boxing do my work in the ring. And it comes naturally, my knockouts. I don't look for them but they just happen because I'm well prepared for my fights.

March 16, 2011