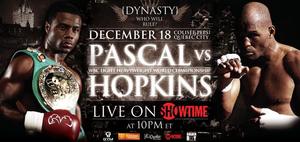 When Bernard "The Executioner" Hopkins faces WBC and IBO Light Heavyweight Champion Jean Pascal on December 18 at the Pepsi Coliseum in Quebec City, Canada live on SHOWTIME® in the U.S. and on pay-per-view in Canada, he will be 28 days shy of his forty-sixth birthday. If Hopkins defeats Pascal, he will become the oldest fighter in the history of the sport to win a significant world title, 38 days older than "Big" George Foreman was when he defeated Michael Moorer for the Heavyweight World title on November 5, 1994.

"The difference between me and Foreman is that most people didn't think Foreman could do it. He was the underdog of all underdogs when he faced Moorer," Hopkins said. "Not only do people think I can win, they think I can win big, and I plan on proving them right."

Despite his age, Hopkins has shown no signs of slowing down. He has won five of his last six fights and is no stranger to facing younger opponents with five of his in-ring rivals having been over a decade younger than him during his 22-year career. The most notable of these was Kelly Pavlik, whom Hopkins defeated on October 18, 2008. At the time of the Pavlik vs. Hopkins fight, the 17-year age gap between the two foes was the largest of Hopkins' career, until now.



Because Pascal is six months younger than Pavlik, there is a nearly 18 year age disparity between Hopkins and the Light Heavyweight World Champion Pascal, which is serving as a motivating factor in this fight for "The Executioner."

"Youth doesn't bother me," said Hopkins. "I have faced youth. Pascal hasn't faced someone like me. He hasn't faced a legend. He is hosting me in his country, on his turf, defending his title. He has a lot to be nervous about on top of the fact that when he looks in the opposite corner on fight night, he is going to see greatness. I can only add to my legacy. I can only continue to make history and back-up what I have already accomplished."

December 14, 2010