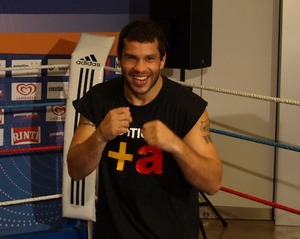 WBO Cruiserweight Champion Marco "Captain" Huck (32-1, 23 KOs) has refused to enter a dirty war of words with Hugo Hernan Garay (34-5, 18 KOs).

After today´s press training, the 30-year-old Argentinian challenger shocked boxing journalists by predicting to "kill" his opponent on Saturday night.

Huck would not comment on Garay´s harsh words. "I don´t care about his remarks," he stated. "I will give my answer in the ring. With the support of my fans, I will make another exciting title defence. The belt remains in Germany! I will get married as world champion on July 30."

Garay´s public work-out session was a short one which only featured some light shadow boxing. "We already know everything there is to know about him," Huck´s coach Ulli Wegner said. "We have studied the tapes of his fights for hours. He is a strong and a very active fighter, so Marco needs to be on alert. Marco needs to stick to our game plan. Then he will leave the ring as the winner."

(Picture: Team Sauerland)

Officials for the Huck vs Garay fight will be
Referee Luis Pabón from Puerto Rico
Judges Donald Trella,USA
John Stewart USA
Mickey Vann, England
Supervisor will be Paco Valcárcel.