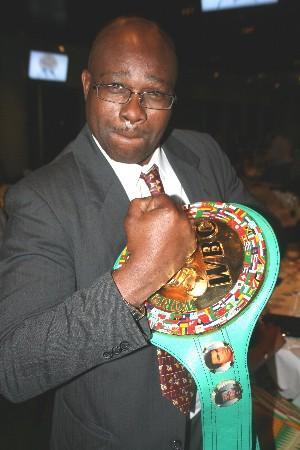 John "The Beast" Mugabi

By Paul Upham in Melbourne: It would be a stretch to believe that John "The Beast" Mugabi could have been any more happy the first time he was presented with his WBC junior middleweight world title belt after defeating Rene Jacquot in France in July 1989. The second time around, it was sheer ecstasy.

After having misplaced his world championship belt during his world-wide travels over the last fifteen years, Mugabi was presented with a new replacement WBC belt on Saturday night at the Australian National Boxing Hall of Fame annual induction dinner at the Melbourne Cricket Ground.

"You don't understand what this belt means to me," an overwhelmed Mugabi, told the dinner audience of 500 people. "I won this belt. I fought hard for this belt. This is my world title and I cannot thank Frank Quill enough for helping to get this belt back for me. Thank you to all who made this possible and to everyone at the World Boxing Council"

Queensland referee Alan Moore made the presentation to Mugabi during the night's events, after WBC official Frank Quill had requested the World Boxing Council head office in Mexico consider issuing a new distinctive green title belt.

Upon being presented with his belt on stage, 48 year-old Mugabi kissed it passionately and held it up in the air, just like he had been declared champion of the world all over again.

After winning the first twenty-five fights of his career by knockout, Mugabi challenged middleweight great Marvelous Marvin Hagler in March 1986, in one of the 1980's most brutal fights and lost by 11th round stoppage at Caesars Palace in Las Vegas.

Originally from Kampala, Uganda, Mugabi settled in Brisbane, Australia in 1996 and ended his career with eight matches fighting out of the Pacific region during 1996 to 1999. His career record was 42 wins, 7 losses, 1 draw and 39 knockout wins.

Throughout the dinner Mugabi was in demand among the fans, signing autographs and posing for hundreds of photos.

"This is special," said Mugabi. "I came from the country of Uganda and to be welcomed so warmly by the country of Australia means so much. The fans here treat me very well. I have my world title belt and I am happy."


Paul Upham
Content Editor