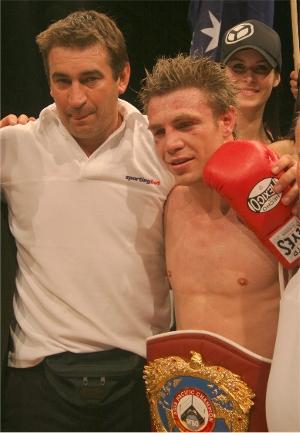 Smith and Katsidis make a good team (pic Paul Upham)

Following his brave but painful ninth round tko defeat to Juan Manuel Marquez back in November, Australian Michael Katsidis is ready to return to he ring-and is targeting WBA junior-welterweight champion Amir Khan as a possible opponent.

Katsidis impressed and gained much respect in going down with all guns blazing against the Mexican tough guy and a rematch with Marquez is said to be an option. But his trainer Brendan Smith believes that as Katsidis is well known in Britain following wins over Graham Earl and Kevin Mitchell, a crack at Khan's title would be a major attraction in England.

Speaking to the Sydney Morning Herald, Smith said: ''I believe that [Katsidis-Khan] is a fight that would absolutely fill anywhere in England, and that's a fight that would be watched all over the world, and it makes a great fight.



''Michael is two out of two in England, and whether Amir Khan takes that into consideration and whether he wants to try and square up for the Pommies … he may have his own agenda.

Regarding the Marquez defeat Smith added: ''He had a little bit of bruising around the eyes and a small cut, but he wasn't hurt badly in the fight,'' he said. ''He was just spent emotionally. He did a wonderful job under the circumstances. However, I don't feel Juan beat us.

December 30, 2010