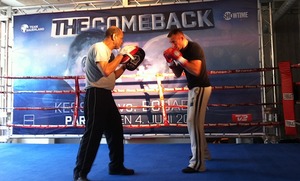 Kessler working out with Jimmy Montoya

Following an enforced hiatus from the ring of nearly 14 months due to a potentially career threatening eye injury former WBC super-middleweight champion Mikkel Kessler returns on Saturday(June 4) night when he faces world ranked Mehdi Bouadla at the Parken Stadium in Denmark.

The 32 year-old has not fought since out-pointing Britain's Carl Froch in April 2010, at a media workout Monday Kessler, 43-2-(32), said he is 'thrilled to be back' in the ring.

"I have really missed the action in the ring," said Kessler, who worked out with coach Jimmy Montoya. "I am in great shape and I am thrilled to be back. I have been working hard with Jimmy. He has pushed me through a lot of demanding sparring sessions. I´m ready for Bouadla. He is a tough guy who will be coming at me from the first bell, but I am well prepared."

As for Bouadla , the 29 year-old Frenchman believes he has the prefect opportunity to make a name for himself against one of the best super-middleweights in the world.



"I am here to win," insisted Bouadla, 22-3-(10). "I know Kessler is a great champion and a great fighter but he has been out of the ring for too long. His long break will be a problem for him. This is my chance to make my name known around the world. I will make the most of it."

The Viking Warrior´s comeback will be shown by broadcast on TV2 in Denmark, with US TV network Showtime also broadcasting the fight ahead of the Super Six World Boxing Classic Semifinal between former Kessler victim Carl Froch, now the WBC Super-Middleweight Champion, and American 'Road Warrior' Glen Johnson.


May 31, 2011