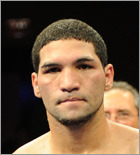 PRESS RELEASE-Mashantucket, CT/New York, NY - (9/26/2011) - DiBella Entertainment returns to Foxwoods Resort Casino with ShoBox: The New Generation doubleheader on Friday, October 21. To be broadcast live on Showtime, the fight will be co-headlined by a sizzling super middleweight showdown between Edwin "La Bomba" Rodriguez (19-0, 14KO's) and Will "Power" Rosinsky (14-0, 8KO's) and rising junior welterweight contender Gabriel "Tito" Bracero (17-0, 3KO's) takes on Daniel Sostre (11-4-1, 4KO's) for the vacant NABF title. Both bouts are scheduled for 10 rounds.

Tickets are priced at $125, $85 and $50 and are on sale now. Tickets can be purchased by visiting www.foxwoods.com or www.ticketmaster.com and by calling (800) 200-2882. Doors open at 7PM, with the first bout scheduled for 8PM. Showtime will begin live coverage at 11PM ET.

"We're very excited to host this ShoBox doubleheader featuring Edwin Rodriguez and Will Rosinsky, two undefeated, world-class fighters," said Scott Butera, President & CEO of Foxwoods Resort Casino. "This fight is a unique addition to our October entertainment line-up, and we always welcome the opportunity to showcase Foxwoods in front of a national audience."





Rodriguez and Rosinsky were both decorated amateurs winning 2005 middleweight and light heavyweight US Amateur Champions respectively. Rodriguez was also the 2006 National Golden Gloves Champion, while Rosinsky won the New York Golden Gloves Championship four times.

"This is going to be an all-around tremendous card on October 21st," said Lou DiBella, founder and President of DiBella Entertainment (DBE), the promoter of Rodriguez. "The main event will feature Edwin, one of hottest up-and-coming stars in all of boxing, facing his toughestDBE opponent to date in Will. Both of these guys were stellar amateurs and now are undefeated up-and-coming prospects set to go toe-to-toe in what is going to be a can't-miss fight."

Rodriguez, who is already rated in all four major sanctioning bodies in the super middleweight division (IBF #5, WBC #6, WBA #8, WBO #12), burst onto the professional scene in early 2008, scoring a first-round TKO over Samuel Ortiz Gomez. The Worcester, MA native has lost only a handful of rounds and earned 19 victories, picking up the WBC USNBC title in the process. In his first fight after shoulder surgery in August 2010, Rodriguez looked sensational, stopping Chris Traietti in the second round.

"I am thrilled to be fighting on Showtime again as the main event. I am looking forward to showcasing my skills and letting the world know that I have arrived and am ready to take on the best fighters in the world," said Rodriguez.

Rosinsky turned pro in August 2008 with a first-round knockout over Valetine Fortanelly on another DBE-promoted show. Rosinsky has fought a number of times on DBE's popular Broadway Boxing series, but the bout on October 21st will be his first in the national spotlight.DBE

"At this point in my career, I felt that accepting this fight was the perfect decision," said Rosinsky. "I feel that I will really be able to showcase my skills as a professional fighter, and what better than to do it on Showtime. Edwin is a talented boxer and an up-and-coming super middleweight prospect like myself. A lot of people, especially fans of the sport, will be eager to see us go toe-to-toe. I have no doubt that this fight will be a great one to see. I'm thankful to Lou for giving me this opportunity and I know that this will be a huge stepping stone in my career."

This is not the first nationally televised, world-class fight to take place at Foxwoods Resort Casino. Earlier this year, Foxwoods hosted the World Boxing Council (WBC) Welterweight title fight between then undefeated champion Andre Berto and challenger "Vicious" Victor Ortiz, which was broadcast live on HBO. Hailed by many industry experts as fight of the year, 24 year-old underdog Ortiz won the welterweight by unanimous decision.

"Edwin Rodriguez is inarguably the best super middleweight prospect in America," said SHOWTIME boxing analyst Steve Farhood. "He's at a sensitive point; he's on the verge of becoming a legitimate contender. His next couple of fights are crucial, and he needs not just to win, but to look like a future world titlist."

The undercard will feature some of the New England area's most promising and exciting fighters including Quincy, MA's undefeated super featherweight Ryan Kielczewski (11-0), and Framingham, MA's light welterweight prospect Danny O'Connor (15-1). The complete undercard will be announced shortly.

Tickets are priced at $125, $85 and $50 and are on sale now. Tickets can be purchased by visiting www.foxwoods.com or www.ticketmaster.com and by calling (800) 200-2882. Doors open at 7PM, with the first bout scheduled for 8PM. Showtime will begin live coverage at 11PM ET.

September 26, 2011