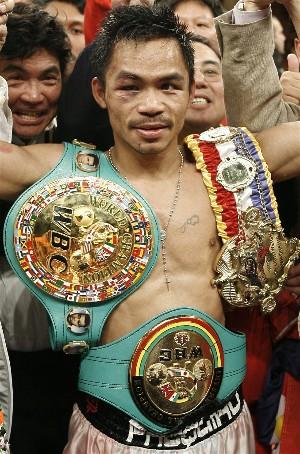 Manny Pacquiao has won world titles at 122, 126 and 130 lbs.

By Matthew Hurley: With the retirement of Floyd Mayweather, the position at the top of the mythical "pound-for-pound" list was vacated as well. Forgoing any arguments, Manny Pacquiao deserves the number one slot if only for the quality of the opposition he has faced in the past several years.

Although he has his dissenters, the main argument being that his most recent performance – a split decision rematch victory over Juan Mauel Marquez – could have easily gone the other way, Manny Pacquiao 46-3-2 (35), the Filipino Phenom, has jockeyed himself into the pole position as boxing's best.

Couple that with the fact that 'Pacman' has been one of the most exciting fighters of the past decade and it seems almost implausible that the polarizing figure that was 'Pretty Boy" Floyd Mayweather held the coveted crown for as long as he did. Doesn't excitement count for anything?

Unfortunately Pacquiao is now dipping into the latter stages of a brilliant career and with yet another rise in weight, now up to 135 pounds from the infancy of his 107 pound beginnings, he moves closer and closer to an inevitable defeat. His ferocious fighting style, now augmented with a slightly more conventional approach as applied by trainer Freddie Roach, mandates a brief, but explosive rise to the top ala Mike Tyson. It has been Roach, however, who has stretched out Manny's shelf life by turning him from a reckless headhunter into a more tactical fighter whose explosions come more intermittently than when he was a precocious up-and-comer.

Pacquiao's greatness as a fighter has been proven over time but there is a sense that the resume that will lead him into the hall of fame may also be catching up to him.



He has faced the Mexican triumvirate of Erik Morales/Marco Antonio Barrera/Juan Manuel Marquez seven times, producing a record of 5-1-1. A third match with Marquez will probably come at the end of the year should he get by his next opponent, WBC lightweight titlist David Diaz, this Saturday night at the Mandalay Bay in Las Vegas. It will be Pacquiao's first foray into the lightweight division and Diaz, 34-1-1 (17) was picked, actually targeted, early on because he would seem to be the most vulnerable title holder to Manny's whirlwind attack. Diaz does not present the technical counterpunching prowess of Marquez; his approach is much more one dimensional. In fact Diaz himself seems to relish those critics who call him crude. His methodical approach is one that necessitates toughness and a willingness to plow straight ahead for twelve grueling rounds. It was that tenacity that dragged him into the final round against an exhausted Erik Morales and enabled him to pull out a close decision victory over the Mexican legend. Diaz, a southpaw, is one of those wonderful lunch pail fighters – not great in any one particular aspect but good all around, always in shape, always willing and at the end of the day would rather tilt back a cold bottle of beer than a glass of good champagne. He's the type of fighter usually underestimated and always comfortable in the role of the underdog. He's the exact type of fighter a great boxer such as Manny Pacquiao should be very concerned about.

Pacquiao's trainer Freddie Roach understands Manny better than anyone and he knew that it was outside distractions that were pushing his fighter precariously close to disaster. Manny's promoter Bob Arum also had concerns because he felt that if Pacquiao would settle down and not only commit to his training responsibilities but also his promotional duties he could turn the Filipino star into a cross over attraction. Both trainer and promoter sat Manny down before his twenty-ninth birthday celebration and upcoming rematch with Marquez and read him the riot act. Since then the fighter once notorious for carousing and gambling and taking into his embrace any ne'er-do-well looking for a buck has closed up ranks and, in his own words, grown up. Roach appreciates this dedication but he now views every opponent with a wary eye because every opponent knows that a victory over Pacquiao will bring notoriety and money.

Never one to mince words Roach sees Diaz for exactly what he is, a straight ahead slugger who didn't just sneak in through the WBC back door to the title – he banged on it until he busted it off the hinges. (Diaz won the title with a thrilling come from behind 10th round knockout over tough-as-nails Jose Armando Santa Cruz.) He knows that Diaz is big and strong and relentless. He also knows that he will be there to be hit, unlike the crafty Marquez. The trainer has also admitted that Diaz's rough style is one that could conceivably bust Manny up, and if there is one glaring weakness in Manny's mental make-up it is how he deals with the sight of his own blood. In every instance he has panicked and Roach is at a loss to explain why his fighter becomes skittish when cut. Although he has fought through cuts against Erik Morales and Juan Manuel Marquez, for example, in both cases he lost momentum in the fight, back peddling and losing successive rounds because of his confusion. With Roach's calming influence in the corner he would eventually find his way back into both bouts but the trainer still laments his fighter's inability to deal with cuts. Diaz, ever lumbering forward, winging shots and elbows will definitely try to bust up Manny's face and if he can do that Pacquiao may again get the quizzical look as backs away and paws at the wound.

As his charge attempts to become the first Asian-born fighter to capture titles in four separate weight divisions the pragmatic Roach remains cautiously optimistic.

"It is our first time fighting a southpaw since Manny and I have been together," he says. "We have a tough fight in front of us."

Pacquiao's rise to the top of the mythical pound-for-pound rankings was a long time coming. For years he has thrilled fans with his frenetic style and through his willingness to take on the elite of whatever division he invades. But it can't last forever.

At one time, when David Diaz was thought to be the weakest of the three lightweight titlists all named Diaz (Juan and Joel have since lost their belts) the rough and tumble Chicago native found himself in the rather awkwardly enviable position of a champion everyone wanted to fight rather than avoid because of his perceived weaknesses. He went on to beat one big star in Erik Morales and now he gets an even bigger star in Manny Pacquiao. Pacquiao has earned the status as the number one fighter in the sport but David Diaz, his good guy persona masking a tenacious fighting spirit, is looking forward to the most important night of his professional career and knocking the pound-for-pound king from his perch.

"This is the biggest fight of my career," he acknowledged at a recent press conference. "It's a fight every fighter should wish for to prove they belong with the best and Manny Pacquiao is one of the best pound-for-pound. It's an honor to step in the ring with him to prove myself. Believe me, we plan on keeping the WBC championship."

Manny Pacquiao – David Diaz will take place on Saturday, June 28th at the Mandalay Bay Resort & Casino in Las Vegas and will be distributed live by HBO Pay-Per-View.