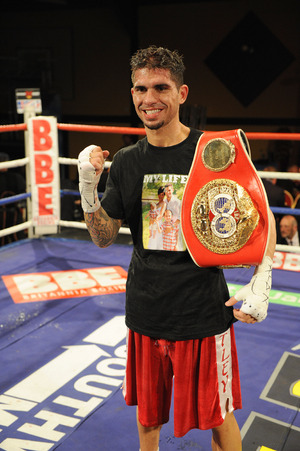 All pics by Leigh Dawney, leighdawneyphotography.com

By Andrew Wake: British boxing's Cinderella Man Jason "2 Smooth" Booth went to the ball but despite a spirited effort over 12 close rounds couldn't leave with the prize.

A few years back Booth, 32, was a sad and forgotten figure. His career had hit the skids and he was battling alcoholism. He'd had the glory of winning titles at both flyweight and super-flyweight but those championship days seemed well and truly behind him.

However, Booth battled back from his dark days and shocked the boxing establishment by producing the best form of his life in taking the Commonwealth bantamweight and British super-bantamweight crowns.

On Saturday night at the Rainton Meadows Arena, Houghton-le-Springs, England the veteran from Nottingham had the opportunity to complete one of the sport's most remarkable turnarounds when he challenged Steve Molitor IBF super-bantamweight title.

Unfortunately for Booth the experienced Canadian southpaw, now in his second reign as world champion, proved just that tad too good over 12 nip and tuck rounds.

Despite having disadvantages of three inches in height and two inches in reach, Booth looked likely to upset the odds in the first four sessions as he used clever footwork to get close to his foe and whip in looping right hands.

Indeed, it was the Englishman who looked like the one that had mixed in world class and baffled and bemused a somewhat flat footed and lethargic champion.

And close to the end of the second session Molitor's task seemed to have suddenly become so much greater when a fast hook from Booth grazed the top of his left eye, opening a slight nick.

Finally, in the fifth round, Mississauga, Ontario native Molitor found some of the sharpness that had seen him win three times before on British soil (one of which was against Booth's younger brother Nicky) as he connected with weighty shots to the challenger's body.

What followed from there was seven rounds of back and forth action, but Molitor had the last word in many of the session as he soaked up Booth's still stellar work but nicked the points by putting strings of punches together in the final 30 seconds or so of the rounds.

Judges scores read 116 – 113, 116 – 112 and 114 – 114.


British featherweight champion Martin Lindsay ticked over with a routine win over Belarusian journeyman Yauheni Kruhlik.

Lindsay, from Belfast, is known for taking his time to grow into contests and find this rhythm but this time he came out firing at a high tempo. Solid body shots soon had Kruhlik wincing and it seemed that Lindsay might score his first opening round stoppage in since earl 2008. Kruhlik did all he could get through to the bell.

In the second Kruhlik his best stint of the fight as he avoided the Northern Irishman's heavy artillery to the body and frustrated him with decent jabs and straight right hands.

However, from the third session onwards, Lindsay was in control, setting a decent pace while slipping in uppercuts to the head and torso. Kruhlik had to admit that he as outclassed by a superior operator as he slipped to his 13th defeat by 59 points to 55.

28-year-old Lindsay, now 17 – 0 (6 KOs), was being talked about as a potential candidate for an IBF eliminator against Australia's Billy Dib. That doesn't look like happening in the short term and the British Boxing Board of Control have ordered him to defend his Lonsdale belt against former holder John Simpson after udefeated mandatory challenger Stephen Smith was sidelined with a hand injury.

andrewwakeboxing@yahoo.co.uk

twitter.com/andywakeboxing