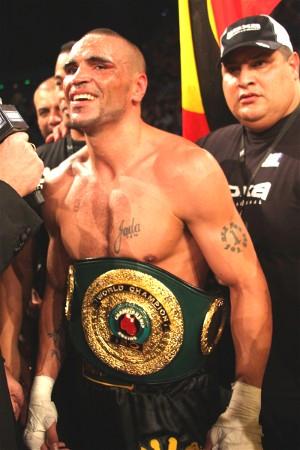 Mundine wins IBO belt: Tim Barry

By Paul Upham in: In one of the best elite class boxing matches seen in Australia for many years, Anthony Mundine won the IBO middleweight world title via a twelve round split points decision over Daniel Geale on Wednesday night at the Brisbane Entertainment Centre in Boondall, Queensland. It was a thrilling fight where both boxers displayed skills and courage at the highest level.

28 year-old Geale 21-1 (13), originally from Launceston, Tasmania, demonstrated intensity and aggression from the opening bell in round 1. A left hook and right hand which landed flush on Mundine's jaw confirmed his own pre-fight assertions that this was going to be a hard fight to win.

After winning the opening stanza on the three official judges' cards, Geale was knocked down by Mundine's opening punch in round 2. With the younger boxer backing up with his left arm outstretched, 34 year-old Mundine 36-3 (23) from Carrs Park, Sydney, landed a sweetly timed left hook which saw Geale down on the canvas. More angry with himself at his error, Geale nodded to his corner that he was unhurt as referee Gary Dean issued an eight count. The action continued and Geale fought furiously in an attempt to recover the one point he had just lost.

In round 3, Geale's clean landing punches were impressive, as Mundine tried to use his slipping defence and get his offence into a constant rhythm. Mundine landed a stinging hook to the body in round 4, which momentarily had Geale backing off. The title-holder landed a hard right hand in one of the closest rounds of the match.

A Gold medallist at the 2002 Commonwealth Games, Geale's bristling pace was pushing Mundine to his limits in the first half of the fight. The undefeated IBO world champion proved less than half way through the match that not only was he on Mundine's level as a fighter, he was able to do the things necessary to defeat "The Man".
Round 5 was another close one, with few landing punches separating the two. Round 6 saw the first of five mid-round stoppages over the next four rounds for loose tape on Mundine's gloves to be re-taped. The breaks brought boos from fans in the arena for what they saw as an attempt by Mundine to garner extra respite from Geale's onslaught. There were two head clashes in close proximity, which were ruled accidental by the referee. Geale complaining that Mundine was leading with his head.

There were three more stoppages in rounds 7 and 8 for loose tape. Both men landed clean punches and split the rounds as the flow of the bout went both ways.

In round 9, which Geale won unanimously on all three scorecards, Referee Dean issued an official warning to Mundine for the use of his elbows. In the final seconds, Mundine was down after receiving a punch to the head from Geale, but it was ruled from a slip as Mundine's back leg lost traction on an advertising logo on the canvas.

After a fifth and final stoppage for loose tape in round 10, Mundine sustained a cut above his right eye from a Geale punch. The round being another unanimous one for Geale on the scorecards.

A two-time WBA super middleweight world title-holder, Mundine was warned for a low blow in round 11 and then followed with a sweet left hook and two right hands, which caught the eye.

Down again from a slip early in round 12, Mundine was hurt by Geale, only to rally with strong flurries to the final bell.

Neither boxer looked confident of victory ahead of the announcement of the official verdict.

Judge Derek Milham scored the fight 116-113 for Mundine. Judge Richard Green scored 115-112 for Geale. The deciding score from Judge Markus McDonald went to Mundine 114-113.


Date: Wednesday May 27
Venue: Brisbane Entertainment Centre, QLD
Anthony Mundine w.sd.12 Daniel Geale
IBO middleweight world title
116-113, 112-115, 114-113
Sonny Bill Williams w.tko.2 Gary Gurr – heavyweight
Alex Leapai w.ko.1 Oscar Talemaira – heavyweight
Kurt Bahram w.ud.4 Blake Sloss – super middleweight
Omar Shaick w.tko.2 Marlon Toby - super middleweight
Chris Stewart w.ud.4 Bruce MacFie– middleweight
Mark Sarracino w.ud.4 Corey Wickins – lightweight
Nathan Carroll w.ud.4 Jun Lee – middleweight


Paul Upham
Content Editor


Photo by Tim Barry - www.TimBarry.wetpaint.com