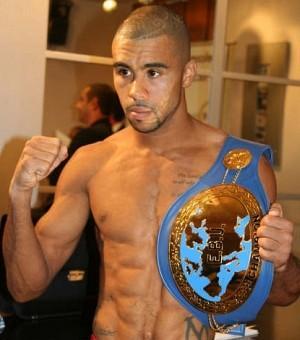 Munroe failed in his bid for world glory

By Andrew Wake: Boxing bin man Rendall Munroe failed in his fairytale attempt to win a world title by losing a unanimous decision to WBC super-bantamweight ruler Toshiaki Nishioka on Sunday (October 24).

30-year-old southpaw Munroe said that he would keep on working his job emptying dustbins for Leicester City Council even if he became a world champion.

It's an endearing story that got the whole of the British boxing fraternity behind him but ultimately the task of dethroning the planet's best 122lbs fighter in his Japanese homeland proved too difficult.

Munroe, a former European and Commonwealth champion, started well enough. He confidently worked his southpaw jab, forced the champion to fight on the back foot and successfully blocked Nishioka's shots.

Indeed, as early as round four the Japanese puncher, a pro since 1994, appeared to be losing steam while Munroe looked to be moving through the gears.

But when it became apparent that Nishioka needed to step it up that's exactly what he did. The 34-year-old didn't amass a record of 37 wins against just four defeats by not digging when needed and he came back with a storming fifth session.

A barrage of shots rocked Munroe's head back and hurt the Englishman for the first time in this writer's memory but the challenger bravely gritted his teeth and survived to the end of the session.

Munroe was back in things by the seventh and a decent straight left paid dividends by opening up a knick by Nishioka's right eye.

However, by the tenth the champion was back in control and hurt Munroe again by mixing his shots from head to body.

Munroe, himself now bleeding profusely from a cut on his right cheek, needed to produce something going into round 11 but he was now falling short with his punches while Nishioka moved in and out with quality body shots.

The final round saw Nishioka raining in shots with Munroe trapped against the ropes. Gutsy as ever, Munroe continued to try and battle back until the end but it was clear that unless he could unleash a miracle shot his hopes of getting his hands on a world bauble would have to wait until another day.

And thus it proved.

Judges James Jen-Kin, David Sutherland and Alejandro Rochin Mapula all scored it 119 – 109, which seemed a little wide but the main thing is the correct man got the nod.

Understandably, Munroe was heartbroken as he left the ring but he proved that he can mix it in world class and can come again.