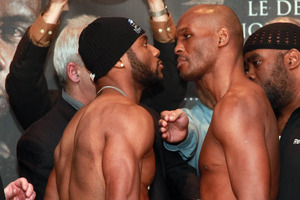 Jean Pascal and Bernard Hopkins face off

WBC, and IBO Light Heavyweight World Champion Jean Pascal weighed in at 174 pounds, 10 ounces and future Hall of Famer Bernard Hopkins weighed in at 174 pounds, 6 ounces for Saturday's world championship bout at the Pepsi Coliseum in Quebec City, Canada.

The LIVE Showtime telecast begins at 10 p.m. ET/PT (delayed on the west coast).

December 17, 2010

.