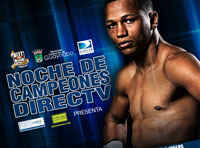 Carlos Quintana

Former world champion Carlos "El Indio" Quintana will face big punching prospect Jorge "Destroyer" Melendez at the Coliseo Mario "Quijote" Morales in Guaynabo on October 29.

Former two time champion Ivan "Iron Boy" Calderon will fight Raul "Rayito" Garcia for the interim World Boxing Organization (WBO) minimum title in a PR Best Boxing Promotions (PRBBP) presentation as part of the 24th WBO Annual Convention.

Headlining the card, Calderón (34-2-1, 6 KOs) will face García (30-2-1 y 18 nocauts) for the 105lb interim championship, while Argentinian Yessica Yolanda Bopp (16-0, 7 KOs) will defend her WBO junior flyweight belt against Suzane Warner (9-10-1, 2 KOs) in a 10 round bout.

In the co feature Quintana (28-3, 22 KOs), a former WBO welterweight champion and seventh ranked by the WBO in 154 pounds will face Meléndez (20-2-1, 20 KOs) for the WBO Latino junior middleweight title.



Meanwhile, former WBO superbantamweight champion Wilfredo Vázquez Jr. (20-1-1, 17 KOs), will fight for the WBO 122lb Intercontinental title against a foe to be named.

In another title bout, Javier Monserrate (24-1-1, 17 KOs) and Javier Castro (25-4, 20 KOs) will fight for the WBO Latino junior welter belt.

Another three four round fights will complete the card with Israel "El Heredero" Vázquez (3-0-2, 3 KOs) versus debutant Jesús Pagán in the flyweight division; Kenny Rivera (1-0, 1 KO) will face a rival to be announced in the featherweight division and Leduan Barthelemy (2-0, 2 KOs) against a foe to be named in the bantamweights.

October 18, 2011