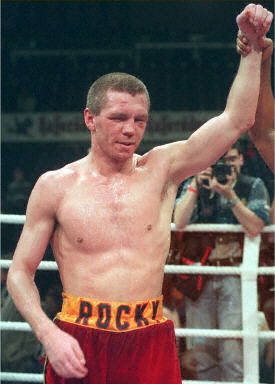 Former IBF super-middleweight champion Graciano Rocchigiani has won a $30 million judgement against the WBC when a New York jury ruled that the German had been cheated out of his WBC light-heavyweight title, his attorney said on Saturday.
Rocchigiani, 38, was awarded the settlement on Friday in a US. District court, said his lawyer, Richard Dolan. The award is made up of $7.8 million in compensatory damages and another $20 million in punitive damages. Interest could bring the final total to $30 million.

The case began four years ago in 1998 when the WBC declared the light-heavyweight title vacant following Roy Jones decision to move up to heavyweight. In the meantime, Rocchigiani signed to meet American Michael Nunn and on March 21, 1998, won a split decision to become champion.

But when Jones Jr decided abandon his heavyweight debut in June the same year, he was restored as WBC light-heavyweight champion. "The WBC sent a letter saying their official rankings, with Rocchigiani as champion, were a typographical error,'' Dolan told the Associated Press. "The whole thing was preposterous. ... It was an outright theft.''

Rocchigiani, immediately, filed suit against the WBC in September 1998 but the case only came to trial four years later, beginning on September 9. "I'm surprised and happy that the WBC got some food for thought,'' Rocchigiani told the German Sports Agency, SID. "I believe this ruling sets an example for all of professional boxing.''

Rocchigiani is now back to Germany to complete a one-year jail sentence imposed earlier this year. Rocchigiani was sentenced for attacking police officers who found him sleeping in a woman's car.

The attorneys for the WBC have yet to comment, as of Saturday.