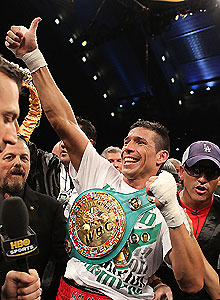 Martinez's celebrates delivering the perfect punch

It is that time of the year again. The time for SecondsOut's loyal and merry band of writers to vote for both their best and worst moments of 2010. Over the next eight days we will be revealing all the SecondsOut award winners. Our 10th annual awards gets underway today with SecondsOut's Andrew Wake revealing our Knockout of the Year winner.

****
SecondsOut Knockout Of The Year: Martinez vs Williams

By Andrew Wake: 2010 has been quite a year for Argentine idol Sergio Martinez but nothing would have been sweeter than the shot he landed on Paul Williams' chin on November 20.

The 35-year-old southpaw established himself as the number one middleweight in the world in April when he took the WBC and WBO crowns by defeating Kelly Pavlik.

The only man who stood a legitimate claim to Martinez's place at the 160lbs summit was Augusta, Georgia's Paul "The Punisher" Williams.

Williams, 29, had scored a contentious majority decision win over Martinez in a non-title fight at the end of 2009 so the veteran South American was determined to set the record straight.

It didn't take long.

The American has a tendency to leave his chin exposed when he throws wide arching punches and this would ultimately be his undoing. Early in the second round, Williams had pressed forward but, despite his long wingspan, was beaten to the punch.

Williams didn't learn his lesson and continued to be aggressive. Then, with slightly less than two minutes remaining in the session, Martinez made him pay the ultimate price.

A fast over-hand left detonated flush on the challenger's chin and sent him crashing face first to the canvas.

Martinez, now 46 – 2 – 2 (25 KOs), explained: "I started to attack, and when I did, we knew he was going to make a mistake, because he always makes mistakes. He left me a lot of room to come in and hit him."

Promoter Lou DiBella was as impressed as anyone at the Boardwalk Hall that night.

"That was one of the great knockout punches of another great fighter I've ever seen," DiBella enthused. "Williams is a brilliant fighter, but Martinez's speed and angles, that punch—that punch would have knocked anyone out."

With the pair now splitting two contests, who knows, maybe a third fight could be on the horizon for 2011.