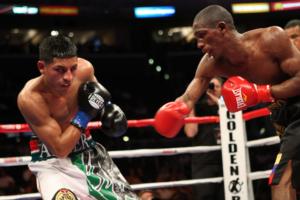 Mares vs. Perez: Tom Casino/Showtime

By Jerry Glick: Congratulations go out to Showtime. The American TV network played a huge part in the health of the sport of boxing in 2010, thereby building boxing up in the eyes of the public. With fine matches and two tournaments to spike interest, they certainly deserved to win SecondsOut's Services to Boxing Award for 2010. Their second consecutive win in this category.

The Super Six tournament in the 168 pound class has been ongoing since 2009, and a winner will be determined in 2011. In spite of a few dropouts, Showtime has not blinked as they continued the tourney with viable substitutes.

More recently, in 2010, Showtime sparked interest in the little guys with a four man contest between Vic Darchinyan, Yonnhy Perez, Joseph Agbeko, and Abner Mares in a bantamweight tournament involving four of the best at 118 pounds. In a recent broadcast Mares beat Darchinyan and Perez got revenge against Agbeko in two fights that were both Fight of the Year quality.

The two winners will face off and the winner of that encounter will be considered the best bantamweight-in the world- according to Showtime.
Many years ago each of eight weight classes had but one champion. If these contests can result in one man being at the top of his division it can only benefit our sport adding clarity and simplicity to a complicated group of championships.

By showcasing the little guys Showtime has allowed them to make their case to the fans that are usually fed the bigger boys. These four fighters can punch and box. The only difference is that they can move much faster than the bigger battlers.

The network could have gone to another division such as the light-heavyweights or cruiserweights, or even the welterweights, but by choosing the bantams they are expanding the scope of fan interest in the US and the world thus widening the base of interest in the sport of boxing.

Showtime has decided to take the steps that would pique the interest of the fans thereby doing a service to the sport that only an entity with access to the public's psyche could do.


WINNER: SHOWTIME BOXING

Previous SecondsOut.com Services To Boxing Awards

2009: Showtime Boxing
2008: No award
2007: Marco Antonio Barrera
2006: No Award
2005: Kostya Tszyu


December 26, 2010