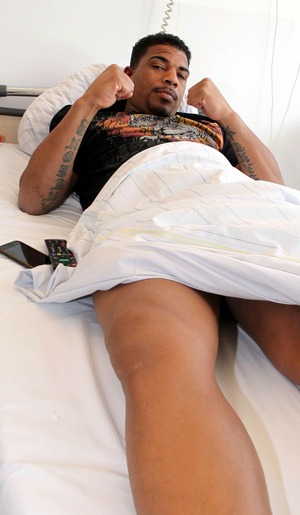 Solis relaxes In Hospital

Odlanier Solis, who was stopped in the opening round by Vitali Klitschko in a WBC heavyweight title fight on Saturday night, suffered a serious knee injury that will require Surgery.

"La Sombra" was taken directly to hospital after the fight where an anterior cruciate ligament rupture, articular cartilage damage and meniscal tear in the right knee were diagnosed.

"I haven't seen a knee torn apart like this in a long time", senior physician Dr. Joern Michael stated after doing an arthroscopy.

Solis will most probably undergo surgery on Thursday at the clinic of knee specialist Dr. Jürgen Eichhorn, who was recommended to Solis and promoter Ahmet Oner by Prof. Walter Wagner, head of the German boxing commission's medical department.

"We want to guarantee the best possible treatment for Solis", says Oner. "It is our goal to bring him back to the ring as soon as possible. But of course only if he is 100 percent fit and ready to fight."



Oner hopes that Vitali Klitschko will give his mandatory challenger another shot at the title after the unfortunate accident of last Saturday. "Vitali knows exactly what it means to lose a fight due to an injury", added Oner. "He has been asking Lennox Lewis for a re-match for years and years and it didn't materialize. We hope that Vitali will not put Solis in a similar situation like he has been in. Solis has earned a second chance."

"I was just unlucky", says Solis. "I didn't even feel the shot that he landed on me and it certainly did not take me out. I felt that there was something wrong with my leg and I lost my balance. When I went down I knew immediately that there was something wrong. I promise that I will be back soon and even stronger – if I get a second chance I will win the title."

At the time of the stoppages the odds had dropped from 7:1 for a Solis win to only 2:1 after "La Sombra" had connected with some nice clean shots and accurate counter punches. There were more than 1 billion Euros bet on the fight worldwide.

"If the knee surgery goes on as planned Solis would be able to start rehab training immediately and be ready to fight again in six to nine months. "Hopefully against Vitali again", added Oner.

March 20, 2011