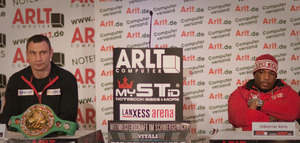 Klitschko and Solis at Monday's press conference

Odlanier Solis wants to make a historical statement in the ring this coming Saturday (March 19th) when he faces WBC heavyweight champion Vitali Klitschko at Lanxess-Arena in Cologne, Germany. Instead of running his mouth about how he will win the fight, the undefeated Cuban remained very calm at Monday's press conference.

"Talk is cheap", stated Solis. "You don't win fights with your tongue, you win them with your fists in the ring."

Promoter Ahmet Oner, who is known for his lengthy and aggressive statements, added: "Why should we run our mouth like everybody else did in the past? That makes no sense. We worked very hard to get to where we are right now. Now let's see what happens. On Saturday we will find out who is the best heavyweight fighter in the world. Whatever we can say about the fight now will not matter anymore anyways as soon as the guys have entered the ring."



WBC champion Vitali Klitschko repeatedly praised his opponent for winning the Olympic gold medal in Athens 2004. He said that Solis is his "toughest opponent since Lennox Lewis". Both Lewis and Solis are Olympic champions. "I respect Solis and I expect a fantastic fight against a very strong fighter" said Klitschko. "But I know that I am in the best shape of my life and I will do my best to end this fight early."

Whan asked how he thought Saturday's fight will end Solis answered: "All I know is that after 12 rounds I will be the new world champion. If I can win the fight before that I will do it. But you never know."

March 15, 2011