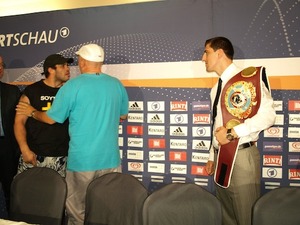 HuckGarayPC1

WBO Cruiserweight Champion Marco "Captain" Huck (32-1, 23 KOs) and hot-blooded challenger Hugo Hernan Garay (34-5, 18 KOs) needed to be restrained today following a heated press conference in Munich.

After showing up late, Garay constantly mocked his opponent and even taunted the local journalists. Asked about his strange behavior, Garay stated he "had the … to be self-confident" and had come to Germany "to win the title." Huck ignored most of the insults hurled at him. "Right now, Garay is laughing, but on Saturday night, he will be crying," the 26-year-old stated. "His behavior is ridiculous. He cannot come here, insult the press and my team and expect to get away with it. I will make him pay in the ring. He will be crying for mercy once we collide on Saturday."

When the two fighters posed for the face-to-face pictures, Garay tried to kiss Huck, which caused a brawl. Both needed to be restrained, with Garay shouting and making angry cut-throat gestures.




Hall of Fame Promoter Wilfried Sauerland was amazed by the Argentinian´s antics. "During the many years in boxing I have seen a lot of strange behavior from challengers," he stated. "It is a clear sign that Garay is really scared. But then again, he has every reason to be afraid of Marco Huck. With his explosiveness and power, Marco will make another spectacular defence on Saturday night."


(Picture: Team Sauerland)

July 13, 2011