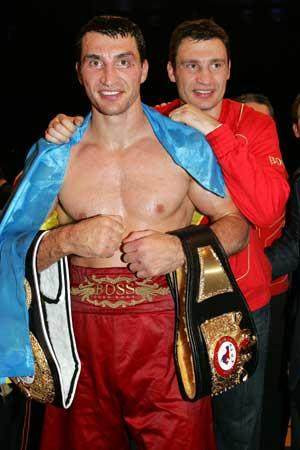 Klitcshko bothbrothers HOGAN1

By Mikko Salo: Good news: In December we will have a two-weekend stretch, where one of The Undisputed Heavyweight Champions and two of The Ring Top 5 heavyweight contenders are stepping in the squared circle. Then the bad news: None of them is facing another Ring Top 10 opponent.

The two-weekend heavyweight festivities begin in Hartwall Areena, Helsinki, Finland on December 3rd with two high-profile match-ups. The undefeated Ring #2 heavyweight contender Alexander Povetkin (22-0, 15 KO) of Russia faces 42-year-old American Cedric Boswell (35-1, 26 KO), whose only loss has come against Jameel McCline in 2003. In a co-featured main event another undefeated fighter, rising Finnish star The Ring #5 heavyweight contender Robert Helenius (16-0, 11 KO) fights Derek Chisora (15-1, 9 KO) of Britain for the vacant European title.

The action continues on December 10th, with Wladimir Klitschko (56-3, 49 KO) making the second defence of The Klitschko Brothers` Undisputed Heavyweight Championship of the World in Düsseldorf, Germany, facing former two-time Ring Cruiserweight Champion Jean Marc Mormeck (36-4, 22 KO) of France.

Even if it is a pleasure to watch all-time great Wladimir Klitschko at his work, the match-up with 39-year-old Mormeck leaves a lot to be desired. No one gives the Frenchman even the slightest chance of upsetting one of the most dominant Champions of all time.

Interestingly, Wladimir Klitschko stated in an October interview that before settling for Mormeck they offered the fight to Povetkin, Helenius, Chris Arreola (34-2, 29 KO) of USA and the young up-and-comer Tyson Fury (17-0, 12 KO) of England, but all of them declined. Right after the Klitschko statement Team Sauerland who manage Helenius denied that there had been any contact from the Klitschko camp so we are left to decide ourselves who to believe in this instance.

Examining the heavyweight playing field it is understandable that the still-developing prospects Helenius (27) and Fury (23) are not interested to get smacked in the face by the Klitschko jab just yet, even if it was for a huge payday. They want to have a legitimate chance of winning and their handlers know this will take some more time and work. The Finnish and English giants still need to refine their skills in the ring and gather business momentum outside of it.

Looking at the business side of things, Helenius already has a large following in Germany and is quickly becoming hugely popular in his native Finland, where there has been only one credible heavyweight contender in history, Gunnar Bärlund in 1930-40s. Helenius`s drawing power in his home country is evident: Even before his December 3rd opponent was announced, he had sold over 7 000 seats in the 13 000-seat Hartwall Areena (do not for one moment think that it is Povetkin who is selling the tickets there). He already has entertaining KO victories over three former trinketholders (Brewster, Peter, Liakhovich). The public has taken notice of his power and ability to brutally "Finnish" off his opponents. If Helenius wins the European title, he will rise to a superstar status in a small-but-enthusiastic market in Finland and will command a growing audience in Germany.

In the case of Fury and Chisora, the David Haye vs The Klitschkos trash-talk-debacle showed that the British are sure to flock behind any countryman who talks a good game and is willing to face one of the Undisputed Champs. Chisora now has a chance to vault his way back into contention if he is able to pull off a surprise victory against Helenius in Helsinki. Right now though Fury definitely has the better business momentum and support of the British public. Fury owns a win over Chisora and David Haye recently retired as a loser after putting on a disappointing performance against Wladimir Klitschko. That leaves the Brits to jump on the Fury bandwagon, even though he clearly lacks world class opposition as of yet.

Besides being undefeated, Fury has an exciting style of fighting and his stock keeps rising with action-packed fights like the last one, a 3rd round TKO of previously undefeated Bosnian-born Canadian Neven Pajkic (16-1, 5 KO) in a slugfest where Fury was dropped for the first time in his career. Fury`s promoter Mick Hennessy is already talking about his fighter performing in Madison Square Garden on St. Patrick`s Day 2012, which would definitely be a brilliant business move to grab the attention of the American public and create a more even playing field for future negotiations with The Klitschkos.

This equation leads us to the result that Helenius and Fury have both athletic and business reasons to bide their time and move carefully towards the possible Klitschko challenge in maybe 2013, when their negotiating position will be stronger than now. This of course demands that they stay undefeated inside the ring. In any case, these two challengers are clearly on the rise, so don`t look for them to make a serious Klitschko push just yet.

The other two alleged Klitschko decliners were Povetkin and Arreola. These are completely different cases from the young rising lions of Finland and England. With #4 contender Eddie Chambers (36-2, 18 KO) sidelined due to back issues, Arreola is the most credible American contender out there. He has been rebuilding his career and reshaping his body since his 2009 and 2010 losses to the other Undisputed Champ and The Ring #1 contender Vitali Klitschko (43-2, 40 KO) and current Ring #3 contender Tomasz Adamek (44-2, 28 KO) of Poland. The slimmed-down Mexican-American has stated that he would want a Klitschko rematch in 2012. This would also make sense from The Klitschko point of view because it would be the best move to get the American public`s attention especially in case Tyson Fury really appears in MSG and puts on a good show there.

If Chris Arreola stays in shape, he might be able to give Wladimir Klitschko some problems with his pressure style of boxing. This would be an interesting fight to see next year although now it seems that the younger Klitschko might have a mandatory challenge coming up against another American, his former knockout victim Tony Thompson (36-2, 24 KO) in a match-up sure to create very little interest compared to Klitschko vs Arreola. Be it Arreola or Thompson, Wladimir wants to return to fight in the USA and he will probably get his chance in 2012.



Then there is the strange case of Alexander "The Decliner" Povetkin. He is a former Olympic Champion, he is undefeated as a pro, he owns quality victories over current Ring #4 contender Eddie Chambers (UD 12 in 2008), #8 contender and former beltholder Ruslan Chagaev (UD 12 in 2011) and former #1 contender and beltholder, since-retired Chris Byrd (TKO 11 in 2007). Povetkin himself is currently rated as The Ring #2 heavyweight contender behind The Klitschkos and has been rated in The Ring Top 10 for over four years. That makes him right now by far the most qualified fighter to challenge one of The Undisputed Champions. But it seems he doesn`t want to.

Povetkin already has had chances to fight Wladimir Klitschko in 2008 and 2010, but he backed out both times. In 2010 his trainer Teddy Atlas said his fighter wasn´t ready yet to face the younger Klitschko. Well, it is fair to say that he should pretty much be ready by now. Povetkin is 32 years old and has been fighting professionally for six years. He is not excactly a fledgling, fast-developing prospect anymore.

The question is: Are we ever going to see Povetkin step in the ring to challenge one of The Champs or is he content in gathering paychecks fighting 40+-year-old American fringe contenders like he is doing in Helsinki on December 3rd? He has already shown his skills and determination against Chambers, Chagaev and Byrd, three legitimate top-level heavyweights. Why is he not stepping up for the Klitschkos and receive his crack at making heavyweight history, not to mention the best payday of his career? This is baffling, but I hope in 2012 we will get some answers, because Povetkin`s credibility as a legitimate challenger for the heavyweight throne diminishes every time he ducks The Champs and continues to step in the ring against someone not named Klitschko. Unlike Helenius and Fury, Povetkin`s time is now or never and the never is arriving soon. Already the Russian`s continuing chicken-out-antics have resulted in the fact that there is more buzz over Helenius and Fury challenging the Champs than Povetkin. The telling situation is that In the upcoming Helsinki card, Povetkin is clearly playing side fiddle to home-town hero Helenius even though he is the higher-rated fighter.

Speaking of Russian heavyweights, there have also been reports that the Klitschko camp has had talks about Vitali Klitschko defending The Brothers` Undisputed Heavyweight Championship against 38-year-old former two-time trinketholder Nikolai Valuev (50-2, 34 KO), the fight possibly being staged on Klitschko home soil in Kiev, Ukraine. Very interesting. If the fight gets made, it should definitely be marketed as The Biggest Heavyweight Championship Fight in History (you know what I mean).

November 15, 2011