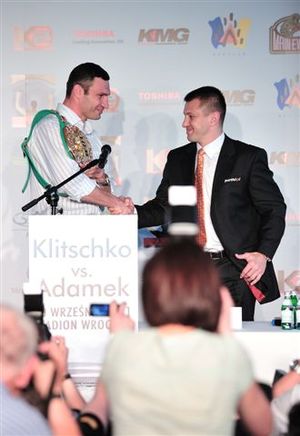 Klitschko and Adamek shake hands

By Mikko Salo

The Match-up:

Vitali Klitschko (42-2, 39 KO) vs Tomasz Adamek (44-1, 28KO)

What is at stake:
After Wladimir Klitschko completed The Klitschko Brothers` quest for The Undisputed Heavyweight Championship by out-pointing David Haye in July, big brother Vitali makes the first defense of the brothers` Championship. This is the first Undisputed Championship Defense in the heavyweight division since Evander Holyfield vs Riddick Bowe I in 1992. Also on the line is Vitali Klitschko?s WBC alphabet belt.

The Boxers:

Vitali Klitschko (42-2, 39KO)
Nationality: Ukrainian
Age: 40
Height: 6`7?"
Weight: appr. 250 pounds
Reach: 80"

Major Accomplishments:
WBO titlist 1999-2000 (lost title in 3rd defense), challenged for The Ring Magazine Heavyweight Championship and WBC title in 2003, The Ring Magazine Heavyweight Champion and WBC titlist 2004-05 (defended once, retired), WBC titlist 2008- (defended 6 times), Undisputed Heavyweight Champion with brother Wladimir Klitschko 2011- (1st defense), currently rated #1 contender in the heavyweight division by The Ring Magazine.

Most notable victories:
Herbie Hide (KO 2, 1999, WBO title), Corrie Sanders (TKO 8, 2004, The Ring Championship, WBC title), Samuel Peter (TKO 8, 2008, WBC title).

Losses:
Chris Byrd (TKO 8, 2000, WBO title), Lennox Lewis (TKO 6, 2003, The Ring Championship, WBC title).

Tomasz Adamek (44-1, 28KO)
Nationality: Polish
Age: 34
Height 6`1?"
Weight: Appr. 220 pounds
Reach: 75"

Major Accomplishments:
WBC light heavyweight titlist 2005-07 (lost title in 3rd defense), The Ring Magazine Cruiserweight Champion and IBF cruiserweight titlist 2008-09 (defended 2 times, moved to HW), currently rated #3 contender in the heavyweight division by The Ring Magazine.

Most Notable Victories:
Paul Briggs (MD 12, 2005, WBC LHW title), Steve Cunningham (SD 12, 2008, The Ring CW Championship, IBF CW title), Chris Arreola (MD 12, 2010).

Losses:
Chad Dawson (UD 12, 2007, WBC LHW title).

On Saturday 10th September the brand new Stadion Miejski in Wroclaw, Poland will have a raucious capacity crowd of over 40 000 chanting the name of their hero, The Ring #3 heavyweight contender Tomasz "Goral" Adamek when he steps into the ring to challenge WBC titlist Vitali Klitschko. The former Cruiserweight Champion and light heavyweight titlist Adamek will try to accomplish something no one has been able to do since 2004: defeat one of the incredible Klitschko Brothers.

The Klitschko Era in heavyweight boxing officially started in 2006, when Wladimir Klitschko won the IBF belt from Chris Byrd and started the five-year unification process. Starting from W. Klitschko vs Byrd II, the greatest pair of brothers to ever lace on boxing gloves have gone on a stunning 18-0, 14KO run in title fights. They finally reached boxing`s ultimate plateau of Undisputed Heavyweight Championship in July 2011 when Wladimir unanimously out-pointed WBA titlist David Haye and added the final piece of the puzzle to the brothers` collection.

The first brother to put their Undisputed Championship on the line is Vitali. As a result, we are now closing in on an event where we are about to witness something that has not occurred in the heavyweight division in almost 19 years: a defense of The Undisputed Championship. The last time this happened, it was November 1992 and George Bush Sr. was still the US president. The Undisputed Heavyweight Champion was Evander Holyfield, the challenger was Riddick Bowe (If somebody now wonders why has The Undisputed Heavyweight Championship not been defended until now, read the SecondsOut feature "Heavyweight History and the Incredible Klitschko Brothers" parts I-III for answers).

Nineteen years ago, The Undisputed Champion Holyfield gave up 30 pounds and 2½ inches to the challenger. This time, the challenger is the much smaller man. Adamek will be about 30 pounds lighter and 6 inches shorter than Vitali Klitschko. But make no mistake about it, the Polish folk hero is coming to fight and he is going to give it his all. Adamek`s hand speed, exceptional chin and 40 000 crazy Poles shouting their sporting god`s name might give Vitali Klitschko somewhat more trouble than his other recent opponents. Will it be enough for maybe the greatest heavyweight upset since Tyson vs Douglas, though? Let`s find out through a twelve round preview

Round One: Power

Vitali Klitschko has an amazing KO percentage with 39 of 42 victories coming by way of stoppage. In his 12 Championship/title fight victories the only men to go full 12 rounds with Vitali are Kevin Johnson and Shannon Briggs. Vitali`s right hand is one of the most powerful weapons in boxing and he is capable of putting a guy out with one punch.

Adamek has fought only six times as a heavyweight and in those fights has been able to knock out only 41-year-old Andrew Golota with four previous KO losses and 36-year-old Vinny Maddalone with three previous KO losses.

Round goes to Klitschko by a landslide 10-8.

Round Two: Speed

Vitali Klitschko has much faster hands than fighters his size and stature normally have. His left jab launches from his waistline with deceptive speed. But Klitschko is still no light heavyweight when it comes to speed.

Adamek on the other hand had fast hands even as a light heavyweight and a cruiserweight. This makes the challenger exceptionally fast as a heavyweight. Adamek`s chance for victory lies in his ability to throw combinations to Klitschko`s head and body while keeping out of harm`s way as much as possible.

Round goes to Adamek 10-9.

Round Three: Footwork

Vitali Klitschko`s footwork is very effective for such a big man. He moves extremely well defensively, keeping himself out of the opponent`s reach.

Adamek is quick on his feet for a heavyweight, but for a man of only 220 pounds he should be light on his feet in today`s heavyweight division, where the truly big guys rule. He needs to rely on his lateral movement when executing his attacks and defense against his towering foe.

Round is scored even 10-10.

Round Four: Chin

Vitali Klitschko has never been knocked down. His two losses have come by way of injury (shoulder against Byrd, cuts against Lewis). He proved his chin by taking the best Lennox Lewis had to offer, keeping himself upright and firing back punch for punch.

Tomasz Adamek has fought through some of the more memorable light heavyweight and cruiserweight wars of recent memory (P. Briggs twice at LHW, Cunningham at CW). His only loss came by a unanimous decision against Chad Dawson. He was knocked down by Briggs in their second clash but has never been seriously hurt in a fight.

Round is scored even 10-10.

Round Five: Size

Well, there is not much debate here. Klitschko`s 30 pound weight advantage (and it is muscle), 6-inch height advantage and 5-inch reach advantage tell the tale. The Klitschko Brothers are the best truly big men boxing has ever seen and they use their size and reach extremely effectively.
The round goes to Klitschko 10-8.

Round Six: Boxing Skills

Vitali Klitschko at his best is a master of timing and distance, catching his foe time and again with simple left-right combinations all the while keeping himself out of the opponent`s usually much shorter reach than his. Klitschko rarely gets caught off balance or in a situation he can`t control with his skills.

Adamek is also a solid technician with well-timed and versatile punches, but he tends to lean more to the brawling side of things, sometimes getting hit far too often. As a heavyweight though, he has been able to score points against slower foes and not getting drawn to exchanges too dangerous for a realtively small heavyweight that he is. Having said that, one must remember that Adamek is now facing by far the most skilled heavyweight boxer he has ever seen.

The round goes to Klitschko 10-9.

Round Seven: Defense

Vitali Klitschko is the more offensive and brawling-minded of the brothers, but nevertheless, his defense seems impenetrable. The left jab keeps opponents at bay and takes their offensive game plans away. The Klitschko Brothers are by a mile the most difficult fighters to hit in today`s heavyweight division. Vitali`s ability to use his height and reach enables him to hold his left hand by his waistline, from where he keeps his foe thinking defensive thoughts himself when the left jab keeps thudding the opponent`s face.

Tomasz Adamek is not best known for his defensive skills, but in this fight he will not last long if he doesn`t box the greatest defensive fight of his illustrious career. A large part of Adamek`s success will depend on how meticulous he will be with blocking Klitschko`s shots, not only how he lands his own. He can not get caught by too many right hands or he will suffer his first KO loss.

The round goes to Klitschko 10-9.



Round Eight: Conditioning

Both fighters have allways entered the ring in top condition and this fight will not be an exception. Klitschko as the bigger and older man might tire first if Adamek is able to keep him missing. On the other hand, Adamek`s only chance is to get in and out fast while scoring with combinations, a very grueling tactic for even the most well-conditioned fighter.

The round is scored even 10-10.

Round Nine: Corner

Both fighters have very respectable and experienced teams starting with trainers Fritz Sdunek for Vitali Klitschko and Roger Bloodworth for Tomasz Adamek. Sdunek and Bloodworth have both worked with a load of world-class fighters. The intriguing part will be when someone`s plan is not working next Saturday. When Adamek gets hit by Vitali`s right hand bombs too often or when Klitschko consistently gets caught by Adamek`s combinations with the Pole moving out quickly enough. How the plan Bs are implemented, we will see on Saturday.

Round is scored even 10-10.

Round Ten: Opposition

Vitali Klitschko has fought pretty much everybody in the heavyweight division during the 2000s even with the four-year injury layoff in 2004-08. He is 12-2, 10KO in title fights. He also gamely fought Lennox Lewis, the last great Heavyweight Champion before The Klitschko Brothers.

Tomasz Adamek has fought the best during his stints in light heavyweight and cruiserweight divisions, but in the heavyweights his most notable opponents have been former Vitali Klitschko challenger Chris Arreola and former Lennox Lewis Championship fight victim Michael Grant. Klitschko pummeled Arreola mercilessly for 10 rounds before the referee stopped the massacre, while Adamek scored a well-earned but close majority decision against the American.

Round goes to Klitschko 10-9.

Round Eleven: Mental Toughness

When Vitali Klitschko retired in his corner citing a shoulder injury while comfortably ahead on points against Chris Byrd in 2000, his mental toughness was widely questioned. Three years later the questions were answered when he suffered a horrible 60-stitch cut in the Lewis bout but kept firing with all cylinders and begged to continue fighting. After that ordeal, no opponent has entered the ring thinking Vitali is soft. But has he gotten away too easily in the seven fights during his comeback starting in 2008? He has gone the distance only twice (Johnson, Briggs) and in those fights the closest any judge had the fight scored was 119-109. Vitali`s mental toughness has not really been tested in the ring since the Lewis fight.

Tomasz Adamek is one of the true warriors in boxing. He has been a part of memorable fights in two weight classes and has shown that he is willing to go that one step further than his opponent. Adamek will not give up even when the fight is not going his way (see the Dawson fight) and is always dangerous. He has pretty much seen it all and is one of the mentally toughest fighters in the game today. But has he tasted anything like what Klitschko has in store for him come next Saturday?

Very close round, but it goes to Adamek 10-9.

Round Twelve: Intangibles

The Poles are coming in hurds to see their hero score one of the biggest upsets of all time. The crowd of 42 000 screaming patriots will be giving their all for Tomasz Adamek, maybe the biggest superstar athlete in Poland today. Vitali Klitschko is not used to fighting in a hostile environment, having fought five times in Germany, once in Switzerland and once in the USA during his comeback campaign. In Vitali`s fight against Arreola in Los Angeles, the Staples Center crowd was naturally pro their countryman, but that was nothing compared to the ecstatic Polish public he will be facing on Saturday. Adamek is vowing to engage Vitali and make his life as uncomfortable as possible. Will the surroundings have an effect on Klitschko and will the support of the home crowd give Adamek the last ounce of courage to accomplish the unthinkable?

The round goes to Adamek 10-9.

The final score is 117-113 for Vitali Klitschko.

The prediction:

This fight has a good chance of living up to its place in history as the first Undisputed Heavyweight Championship defense in 19 years.

Tomasz Adamek, unlike David Haye, will come out fighting and trying to engage Vitali Klitschko in the kind of a fight The Champion doesn`t want: A close combat with Adamek using lateral movement to distract Vitali`s timing and to keep out of reach of the Champion`s jab while scoring with combinations himself.

This is easier said than done, though. The Klitschko Formula of a steady diet of left jabs and occasional punishing right hands has proved too much for all comers for as long as the brothers have had it perfected. Vitali is the better brawler of the brothers and if Adamek proves to be too elusive and fast for the normal formula, Vitali can turn into a leathal stalker who hunts down the smaller man, cuts off the ring and shrugs away Adamek`s attempts to keep the gigantic clubber at bay.

In the end Vitali has too much power and size for the brave Pole. The Ukrainian Champion will build up a points lead with the well-timed jab, powerful right hand and effective defensive movement. In trying to close the distance both in points and in the ring, fearless Adamek will eventually catch one too many right hands and go down swinging after giving it everything he has in the most entertaining heavyweight fight in recent memory.

Vitali Klitschko by TKO 11.

September 5, 2011