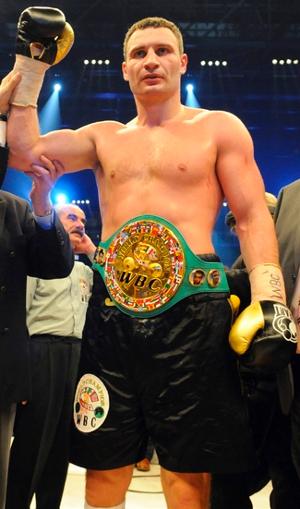 Vitali Klitschko

By Andrew Wake: The Klitschko brothers' dominance of the heavyweight landscape continued in Poland tonight as Vitali retained his WBC crown with a tenth round stoppage of Tomasz Adamek

Jersey City-based Adamek, a former world champion at both light-heavy and cruiserweight was simply too small to cause the reigning champion any real problems.

Klitschko's height and reach advantage was evident as early as the opening session. He used his ramrod jab to keep Adamek at distance before forcing out a right cross that made the Pole dip momentarily.

Adamek's only chance would come if he used his superior speed. However, he struggled to get past Klitschko's stick and again shipped a heavy right hand towards the end of the second.

34-year-old Adamek attempted to mount a comeback in round four and did score a couple of noteworthy punches but his attacks could not be sustained and Klitschko re-established his solid punching a stanza later.

And the end looked nigh in the sixth when referee Massimo Barrovecchio was forced to hand out a standing eight count after Vitali connected with another weighty shot that made the Polish man fall into the ring strands.

But it was the giant Ukrainian that touched the canvas first as he slipped onto his backside in the eighth. The vociferous Polish fans – over 40,000 of them – cheered like their hero had somehow pulled off an unlikely knockdown, but the truth was that no punch landed.

The crowd's cheers had changed dramatically by round ten as they witnessed their man getting pummelled by countless right hands upstairs.
And with his head lolling from clean blow Mr Barrovecchio finally did the correct thing by stepping in.

It had been coming for several frames and the question must be asked whether Adamek's corner should have pulled him out rather than letting him go on taking blow after blow in a fight he stood little chance of turning around.

Vitali is now 40 years of age and must be close to the end of his glittering fistic career. But when he's this dominant against foes that can barely lay a glove on him he must think that he can continue forever.

Britain's David Haye, the former WBA titlist, has made some noises about going back on his own retirement plans to face Vitali later this year but after his pitiful performance against the Ukrainian's younger sibling Wladimir, interest in the bout is likely to be limited.

Other results
cruiserweight Mateusz Masternak w ko 3 Carl Davis
heavyweight Andrzej Wawrzyk w tko 9 Devin Vargas
welterweight Sadam Ali w tko 6 Boris Berg
super middleweight Mariusz Cendrowski w tko 5 Anton Sjomkin
cruiserweight Ola Afolabi w pts 8 Lukasz Rusiewicz
heavyweight Johnathon Banks w tko 7 Ivica Bacurin