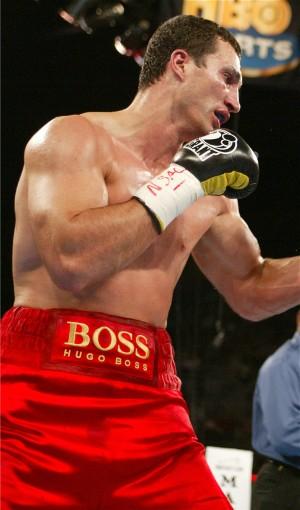 Wladimir Klitschko

The verbal sparring sessions between the Klitschko brothers and WBA heavyweight champion David Haye continued today when IBF/WBO and IBO king Wladimir called Haye a coward and a liar.

Klitschko, who is in London to promote his December 11 title defence against Dereck Chisora, took the opportunity to take a swipe at Haye on Sky Sports' Ringside programme earlier tonight

Speaking to former cruiserweight champ Johnny Nelson and presenter Adam Smith, Klitschko said: "We gave David Haye the chance to fight us more than once, but he bailed out".

"Each time he found an excuse. The contract didn't fit well, this and that. The contract (to fight Vitali) - there weren't any issues with it, we signed it straight away, like standard.

"And David Haye signed a contract before when he was supposed to fight me.

"It's just an excuse, he's a coward and he's a liar," insisted Klitschko . "David Haye is just finding another excuse not to fight the Klitschko brothers because he knows he's going to get KO'd.

"He has been saying 'next year I'm going to be 31 and I won't fight again', it it's like another excuse's he's preparing. So it sounds like when a fight with the Klitschko's doesn't happen, he's said before 'I'm going to retire'.

"By the way, I want to tell you little by little he's(Haye) turning into a clown. He performs, he puts a lot action into himself and at certain times it's good - but he goes overbands (sic) it, so boxing fans don't take him seriously any more."

October 22, 2010